Update your window treatments and refresh your home decor instantly with new composite wood blinds and sheer shades.
When we bought our home a year and a half ago there were many things that we loved about it – a huge backyard with a two tiered deck and a hot tub, big windows and a finished basement with a pool table!
…however there were two updates that needed attention to refresh our home! Repaint the walls to create a neutral color palette and update the blinds and window treatments.
We've done a lot of painting since we moved in and just recently we've updated many of our window coverings!
I'm so excited to share our new custom blinds and shades that we just installed!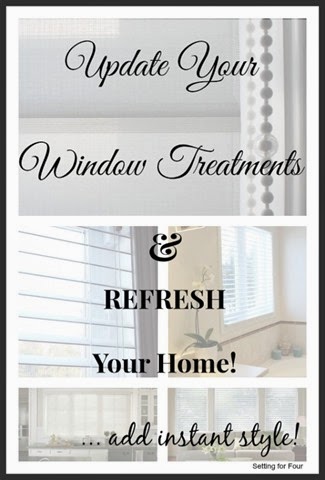 This post contains some affiliate links for your convenience. Click here to read my full disclosure policy.
Let's start by taking a look at our roman blinds and shades that needed to be replaced.
The existing blinds just weren't our style… and they were literally falling apart; the trim was falling off and they weren't functioning properly: they would constantly jam and get stuck when we would open and close them!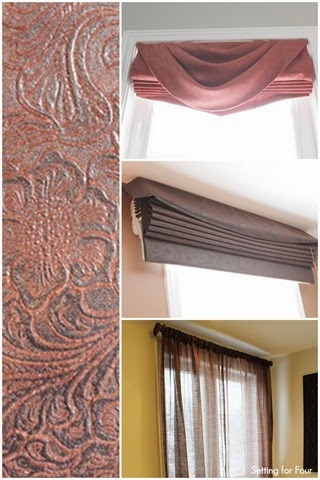 The top right picture: a roman shade with swag valance made from a rose pink fabric – these were in our living room.
The middle right picture: the roman shades that were in our basement….made from some sort of embossed 'leather'(shown on the left); these were SUPER heavy to raise and lower!
The bottom right picture: the brown polyester sheer short curtains in our Master Bedroom ensuite bathroom.
So now you can see why we needed some window treatment updates!
I selected classic white faux wood blinds for the windows in our basement, our ensuite bathroom and our teenager's room for energy saving benefits, light control and privacy. Faux woods are super durable and moisture resistant, great for high humidity bathrooms!
I selected stylish sheer shades for our two family room windows for a modern elegant look that would offer filtered light and room darkening ability when we watch movies.
Sheer shades are a combination of opaque and semi opaque materials; when they are open they filter the light and when they are closed they completely block the light. They also can be opened completely and they fold up to the top of the window at times when you'd like a completely open view.
Here's our Master Bedroom Bathroom Ensuite update! Much better! No more brown polyester!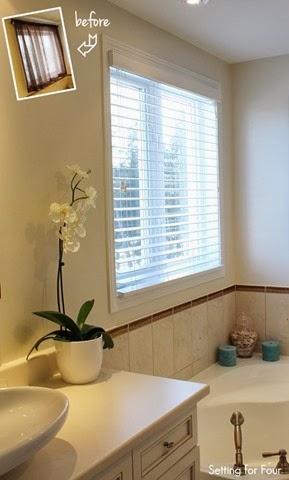 Living Room window treatment makeover: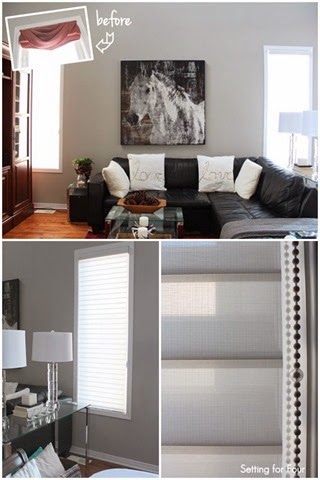 I LOVE our new window treatments so much! What a huge difference they make to the overall look and feeling of our home!
So much more stylish, functional and bright!
So what do you think of our new blinds and shades? A big improvement to our home aren't they?