Of all the decor styles to choose from, rustic chic decor is a fabulous and timeless way to decorate a space. It adds the beauty of nature to any room and imbues your home with laid-back comfort!
The beauty of reclaimed wood is that it adds texture and optical weight to a space. It's a great way to add a focal point and presence to an otherwise boring bedroom! It's weathered appearance and architectural detail may be just what your bedroom calls for!
Here are 12 Rustic Chic Reclaimed Wood Bedroom Decor Ideas: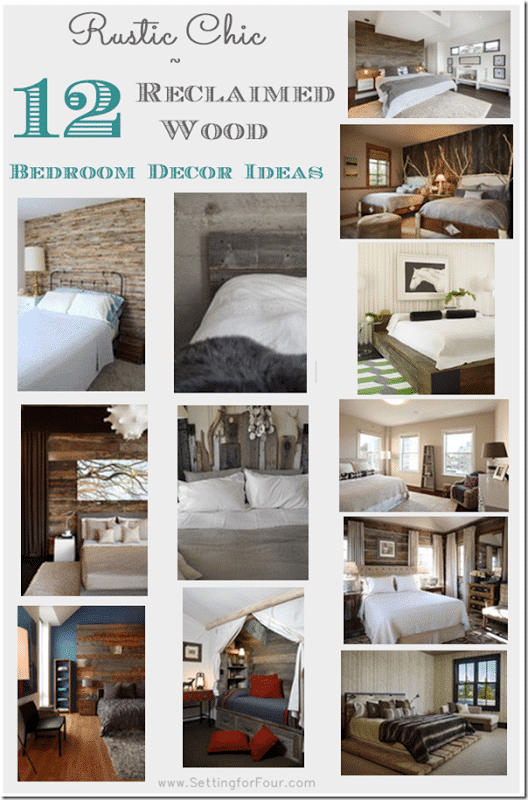 Reclaimed Wood used as a rustic backdrop for modern furnishings:
I love how chocolate brown curtains were added to visually frame the space and act as if there are windows in the room!
This is interesting! Planked wood walls with the planks running vertically instead of horizontally! Love the birch branch beds too!
This planked reclaimed wood headboard looks fabulous with this blue wall color!
Beautiful shades of Gray: Gray weathered wood accent wall with pendant night table lighting.
Reclaimed wood bedroom walls. Stunning contrast with the cream and white neutral decor!
Planked wood wall with narrow, staggered wood planks for a bedroom.
Fun idea for a boys room! Planked wood accent wall with built in shelf for storage:
Reclaimed Wood Headboard with chunky black nails and weathered distressed finish:
Reclaimed wood bed headboard and base with shelves.
Reclaimed Wood Bookshelf:
So are you a fan of Rustic Chic Decorating and Reclaimed Wood Bedrooms? Which room is your favorite?
****
~ ~ ~ ~
Want posts delivered to your inbox? Click here!
* Thank you SO much for coming by for a visit! I love to hear all of your comments! *
Heather
Written by Heather at Setting for Four
Setting for Four is a home design, décor and lifestyle blog. Focus is on home renovations, crafts, DIYs, tutorials, recipes, as well as family friendly design and decorating ideas that won't break the bank or sacrifice style.

You can find Setting for Four on Google+
Sharing at:
Skip to my Lou Twelve O Eight DIY showoff VMG 206