See my new office chair with a designer look and a budget friendly price tag! I spent just $150 compared to $3000! Wow – what a great savings!
I have been looking for a while now for a new office chair. After much searching I finally found it and I love it!! Here it is, the Metropolitan Loft Office Chair: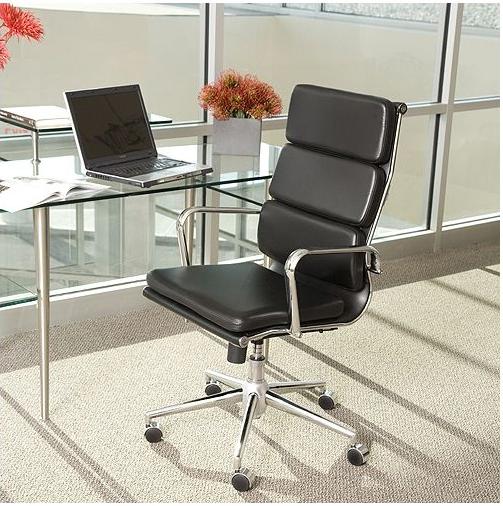 My New Office Chair:
Source: Sam's Club (no kidding!) Price: $149.68!
Reasons why I love this chair:
it's leather (mmmm…)
contemporary (love the chrome and black combination – very sophisticated)
very comfortable (the back is an ergonomic design)
beautiful arm rests – for more comfort
lots of adjustability: the height adjusts, it tilts backward and it swivels. Love lotsa options!!
5 year warranty
under my $200.00 maximum budget I had set for myself.
Of course I did some comparison shopping before choosing this chair. These were the other contenders on my list:
West Elm Swivel Leather Desk Chair
This baby is made in Italy and looks manifico! However the price doesn't : $399.00 plus shipping (10%) = $438.90. Yikes!!! Waaaay over my $200.00 budget. Plus, I am looking for a chair with more padding for the comfort factor. I sat in a chair very similar to this in TJ Max ($140.00ish) and it was very stiff and uncomfortable. (The one in TJ Max had a lot of scuffs and marks on it as well – so I didn't buy it). So this chair gets ruled out.
West Elm Wrap Office Chair
OK – so this one has the looks!! WOW – love the wingback silhouette! However being a comfort girl – this one has no padding on the seat or back- its a veneer plywood seat. I'm thinking ouch!!! No 'cush for the tush'! On the plus side, the price is more reasonable than the previous chair. This one is $199.00 + $21.00 shipping= $210.00. But I still wanted to keep my budget to $200 max. So I ruled this one out too. (But it does look hot!!)
Moving on, lets get to the final two comparison chairs! Both of these seem soooo similar in looks to my Metropolitan Loft Sam's Club chair; I am talking 'knock-off similar':

Z Gallerie Wyatt High-Back Office Chair
Doesn't this look pretty darn close to my office chair below?

Now to compare details. Price of Z gallerie's chair: $349 + $85 special handling charge= $434. Yikes again!! Over budget (Sam's version is a whopping $284.32 cheaper! Gah!). Plus its not even real leather – it's faux. It does look comfy but it only has a one year warranty as well, so Sam's Club you score on top again.
Now for the Dream Chair!!!
Eames® Executive Chair by Herman Miller®
This Eames chair is a real beauty – and it just screams quality and luxury!! However the price was waaaaay above my budget. Price: $2978. Wow that's a lot for an office chair!
Although not an Eames, my new office chair looks pretty darn close to it !! I love the look and the budget friendly $149 price tag!
See these similar chairs: