Often it can be difficult to know how to design and decorate a room. Where do you start? What colors to use? What style of furniture and accessories to add? Do you choose your paint color first or last? How do you 'Get the Look' of a style that's you?
Let me pass on the tips and tricks I've discovered over the years on how to 'Find your Design Style and Get the Look'!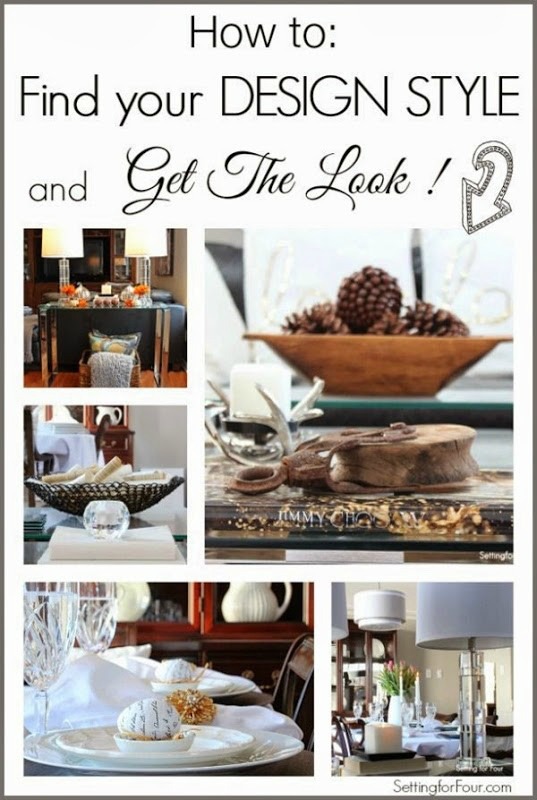 As a military wife – I've moved…. a lot. That means I've had to define my decor style over many moves and years to fit many different homes, room shapes and types of rooms without buying new furniture and accessories for each home we've lived in.
I've lived in a variety of home shapes and sizes: apartments, a town house, a bungalow, a split level ranch and two story homes…
The constant throughout all of those moves and homes, that allowed me to create a decorated look instead of chaos, was my design style: Traditional-classic-glam-rustic-with-a-touch-of-contemporary thrown in!
Identifying your own style will help you to begin building and enjoying your 'look'; begin with great basic pieces of furniture and build onto them throughout the years, creating a beautiful layered and decorated home!
To help you define your style you can look at:
1. Magazines – Clip out your favorite pictures – you'll find common colors and styles in the pictures you collect!
2. Model homes – visiting model homes is a great way to see a 'decorated and designed' look that will feature products and decor styles available in your area! This is a great way to see styles in real life and is an effective way to identify what you like and don't like.
3. Pinterest – of course Pinterest has tons of images of rooms and homes from all over the world. Pin your favorites to a pinboard and just like magazine pictures, you'll find a common style jumping out and being repeated over and over again.
4. Houzz.com – Houzz has millions of photos of real homes designed by professionals. You can filter photos by styles – a great way to see what looks you love and learn about the styles you are drawn to!
5. Your closet – Go to your closet and look at the colors and styles that you love to wear. Do you love to wear bright yellow tops and jewelry? That's an accent color you can decorate with! Do you love tailored clothes, jackets, pants? You probably love contemporary tailored furniture and looks! Do you love to wear faded denim, fringe, suede booties and jean jackets? You might like farmhouse style!
In my dining room my aim is to create a look of casual sophistication. My vintage stoneware and milk glass collection is displayed in our antique mahogany hutch and cabinet. Simple white contemporary plates are white napkins are mixed with gold beaded napkin rings and crystal water glasses to add a fresh current look to my love of classic pieces.
Here I added an 'urban' pendant light and contemporary oversized white vase to our dining room to add contrast to our traditional antique mahogany set and crystal candleholders.
A mix of textures and materials is a great way to get the 'urban classic' look: here I've combined a seagrass basket, ruffly throw with a chrome and glass console table and crystal lamps. Behind this vignette is our tufted leather sectional and wood entertainment unit. Colors are earthy and rich balanced with light and relaxed.
This post contains some affiliate links for your convenience. Click here to read my full disclosure policy.
The Urban classic style is a great way to embrace all of our found items that we've collected during our travels. We buy at least one memorable item from each country and area that we live in and visit:
Here is an antique pulley covered beautifully with a rust patina that we purchased at an auction in Virginia when we lived there a year and a half ago. The antler candle holders were purchased on a holiday in England. The Jimmy Choo coffee table book adds a bit of my personality and is a recent purchase – I love shoes and maybe one day (if my wildest dreams come true!) I'll even own a set of Choo's! An antique dough bowl full of pinecones keeps the look relaxed and easygoing.