Today I'm talking about gardening – tips on curb appeal with plants! Our home's curb appeal is so important to our family!! When we moved into our beautiful home 2 and a half years ago we were lucky to inherit gorgeous landscaped gardens and plants in our front and back yards. As a military family we move a lot and fabulous curb appeal is so important to us when we buy our homes! The home has to have a great first impression and really wow us…make us feel 'at home' within the first few moments of pulling into the driveway to view the open house. If the home has bad curb appeal we are instantly wondering what else is wrong inside the home!
Our home has gorgeous curb appeal with natural stone front steps and a front yard containing perennials: hostas, low junipers, some shrubs and ornamental grasses…. but it's lacking colorful plants and flowers!
This year I'm adding my own touch and stamp to our front gardens with plants that have gorgeous flowers and a long blooming season, to give us that wow effect and pump up our home's curb appeal. I want our home to look warm and inviting for our friends, family and neighbors and for ourselves too!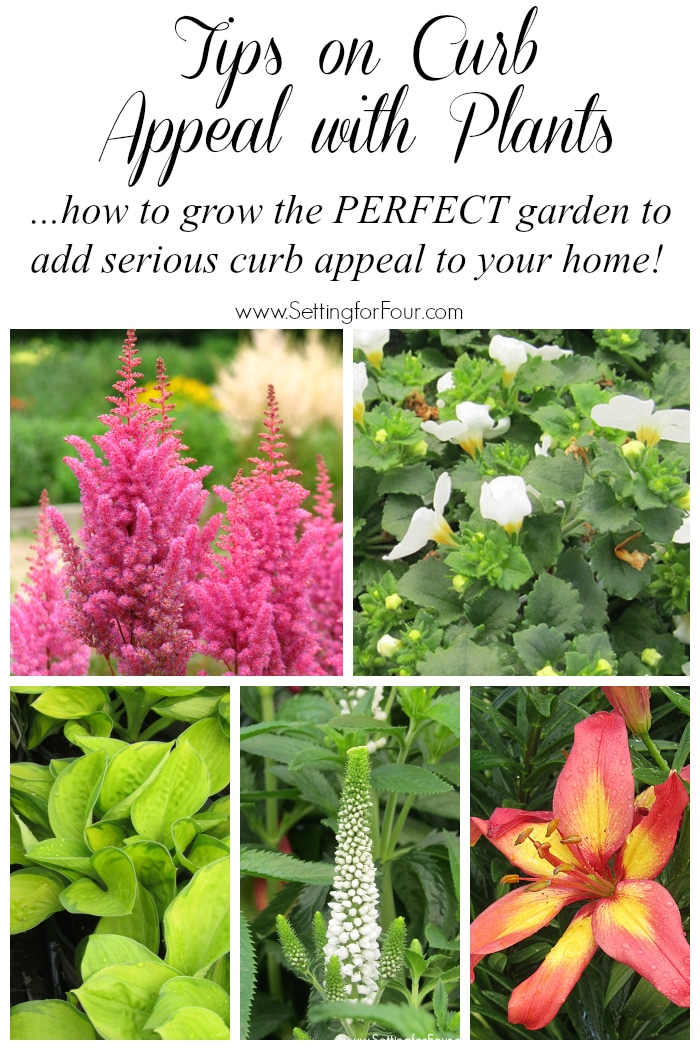 5 Tips on Adding Curb Appeal with Plants
Here's our front garden before it's curb appeal makeover- lots of beautiful perennial trees, plants and shrubs…. but no pop of color!: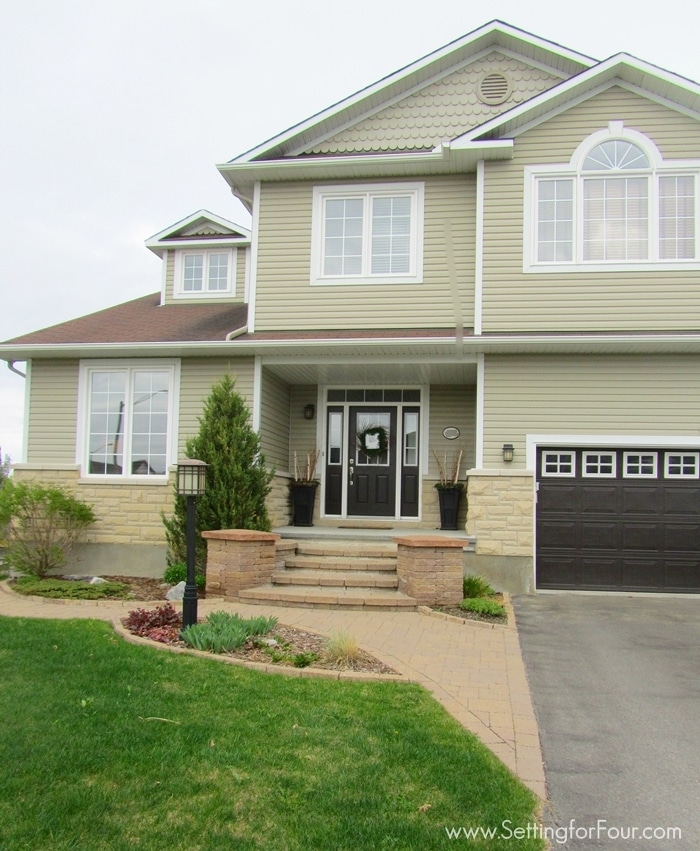 We've had such a cold late spring this year that all of our gardens and plants are way behind in their growth! I'll show you later this summer how my home looks with it's curb appeal makeover in bloom!
Here's my front yard makeover plan and my 5 tips on curb appeal with plants – how to grow the PERFECT garden to add serious curb appeal and impact to your home:
1. Color: Adding color to the front of your home with plants adds instant and easy beauty and impact!
2. Plant Hardiness: Invest in high quality plant species that are hardy to your area so that they will last all summer and if they are perennials will come back year after year saving you money in the long run.
3. Problem and Solution: Choose plants that will solve the particular challenges that your front yard may have? Does your home have lots of shade? Choose shade garden plants like hostas. Does your front yard experience drought? Choose water-wise plants like ornamental grasses! A rocky yard? Choose succulents that can grow in those types of conditions.
4. Plant types: Add perennial plants to your garden beds and add a mixture of perennials and annuals to your front entryway containers. Perennials will bloom year after year so planting those in your garden beds will provide landscaping that is low maintenance (you don't have to buy new plants each year) and adds value to your home. Adding some perennials with annuals in your containers will give you interesting foliage and flower combinations!
5. Easy care: Choose plants that are low maintenance. We're all busy these days! You don't want to spend the summer caring for fussy plants when you want to be relaxing and enjoying your gardens and the outdoors! Also if you go away on summer vacation you want plants that require little care so that they will look great when you return home!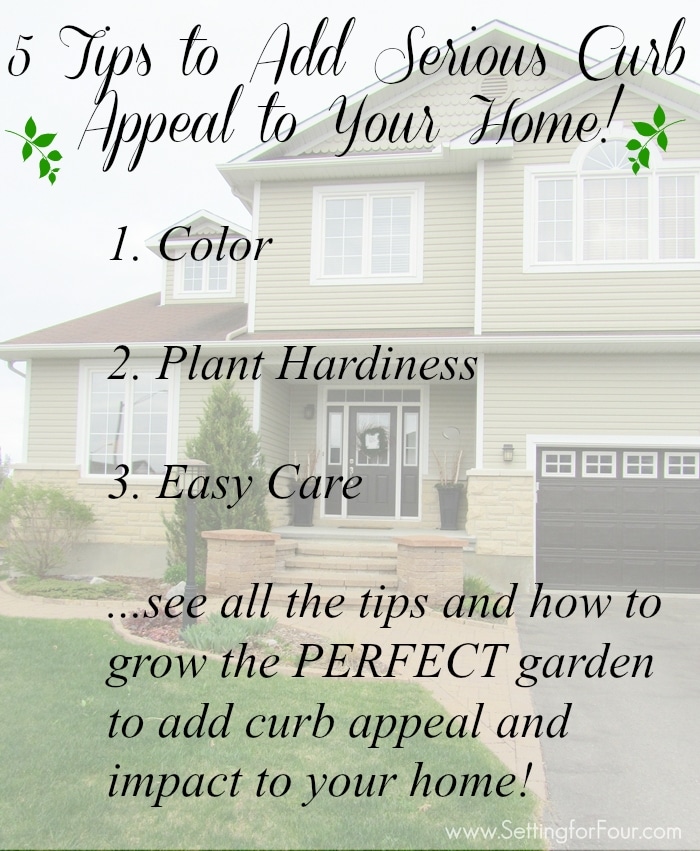 These are the colorful plants that I picked to add beautiful blooms to our front yard: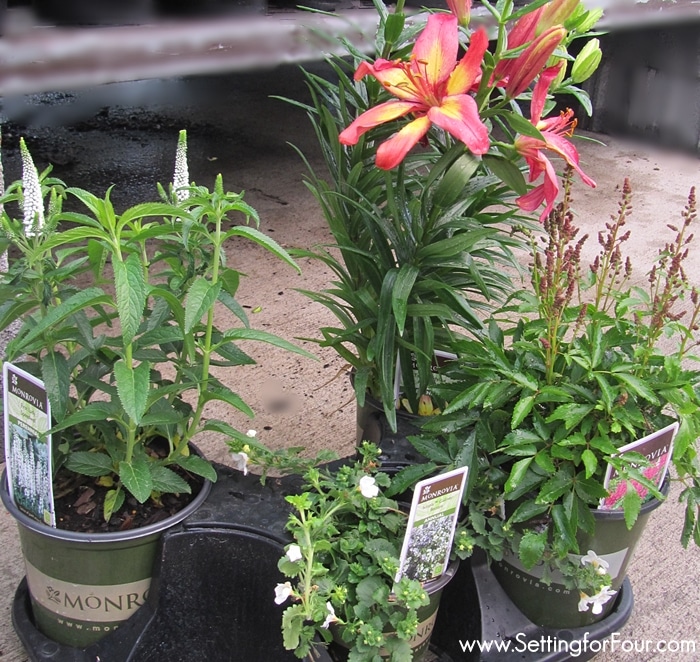 Tango Ladylike Asiatic Lily: These standalone stunners have dramatic yellow and apricot colored flowers with a long bloom season. They have compact stems filled with showy flowers that add lots of pow and curb appeal. They also attract butterflies! Monrovia's plant tag explains that they are easy to grow (hurray!) and make spectacular contrast in perennial beds or can be used as a container plant. They are a great cutting flower too for summer flower arrangements! I love adding fresh flowers to my living room, kitchen and bedroom!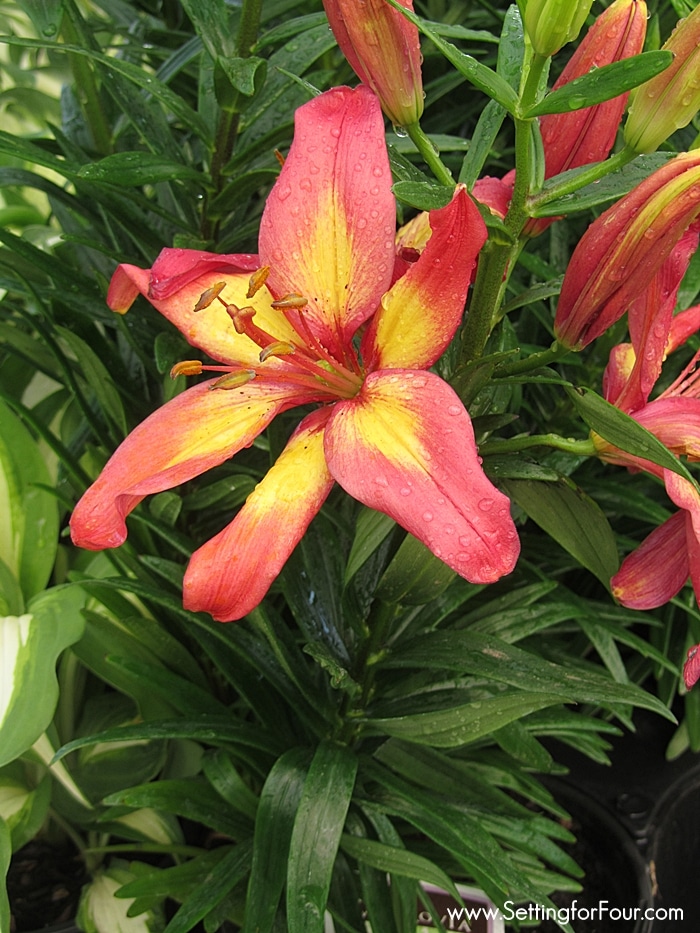 First Lady Speedwell: I love the spikes of pure white flowers! This perennial also has a long bloom season and are a compact plant as well! Perfect in sunny borders or containers for adding that perfect 'summer white' color to your yard!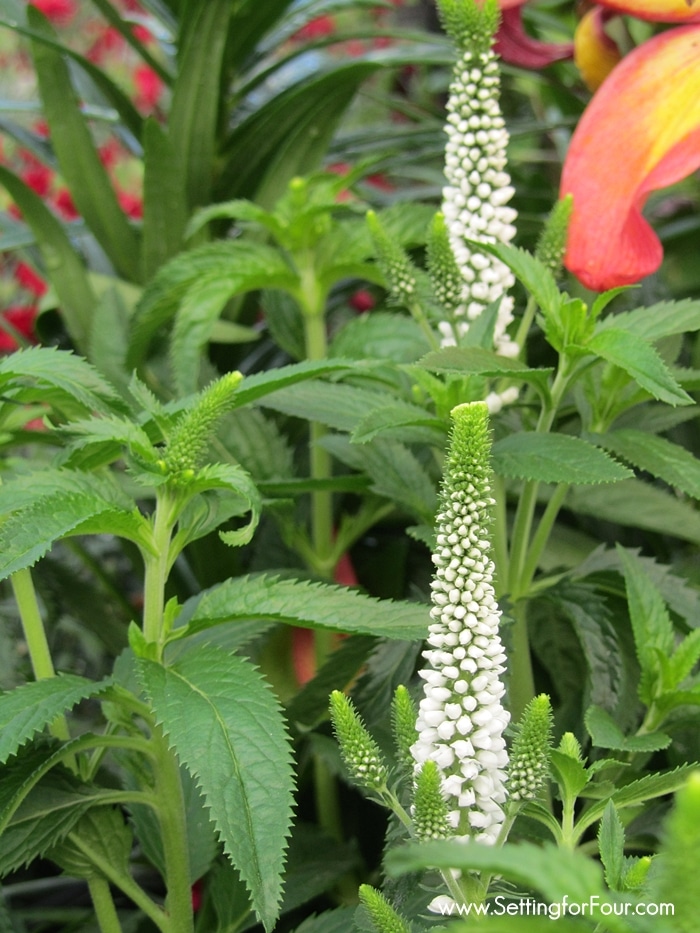 Pink Astilbe: High impact, showy plumes of bright pink flowers with rich green foliage. This vigorous performer brings beautiful summer color to dappled shade garden borders or patio container displays. Sun tolerant in cool areas. Flowers are excellent for cutting.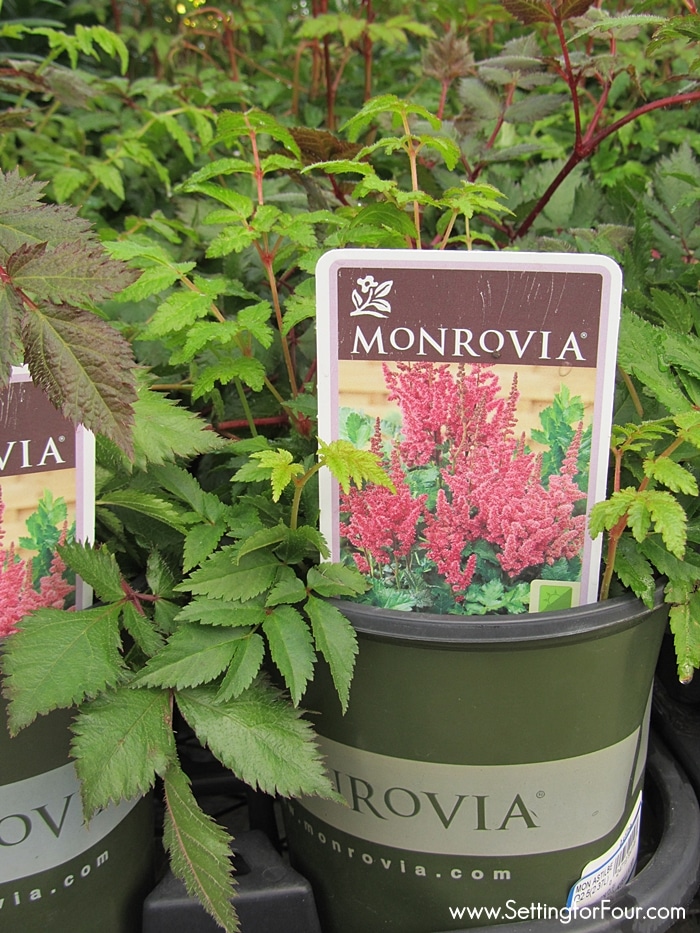 Scopia Gulliver Bacopa: This annual compact trailer will grow masses of showy white blooms. (I love white for my home indoors and out!). Bacopa is a perfect container plant for urns, baskets and window boxes and has a long bloom season!! I'll add these to some urns for my front entryway. Tip for container gardening: Use the thriller, filler, spiller technique for your pots!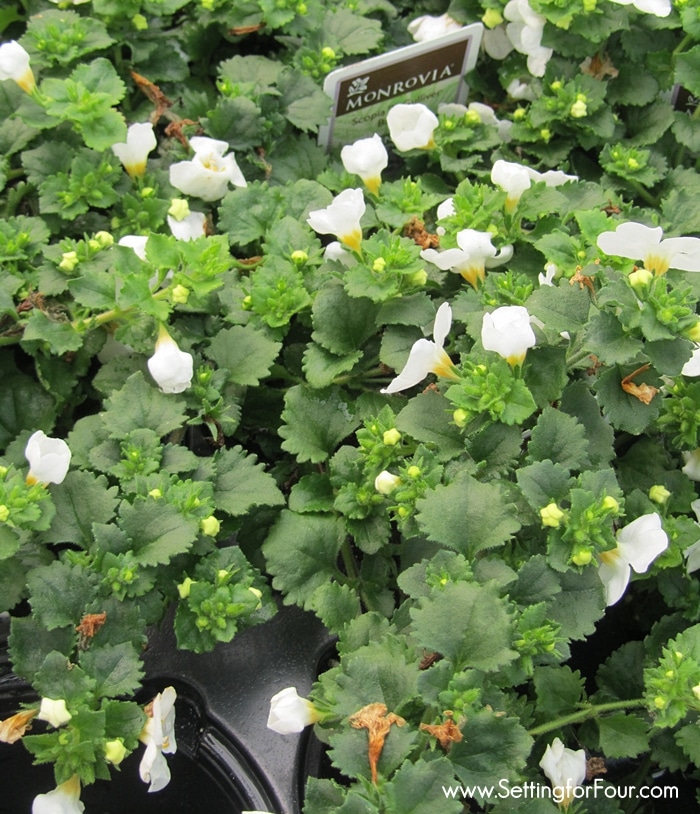 I also picked up these gorgeous hostas which are perfect for adding to shady areas for instant curb appeal!
Hostas are so easy to grow, and you can divide them each year and plant in other bare areas in your gardens! (saves you money!) They thrive in shady areas.
Tip for shade gardens: Add a variety of hostas in different colors (lime green, dark green, green and white) for a gorgeous green garden!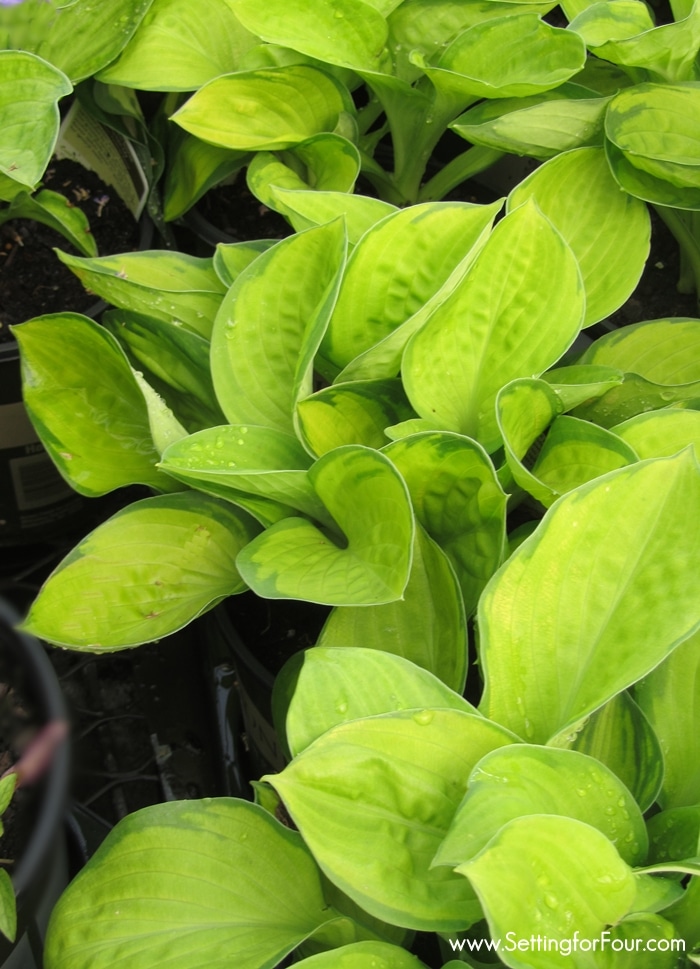 So what do you think? Do you think I picked some gorgeous plants to add colorful curb appeal to our home?
Getting beautiful curb appeal can be easy if you follow these 5 tips on curb appeal with plants – how to grow the PERFECT garden to add serious curb appeal and impact to your home!
You may also like:
How To Grow A Cut Flower Garden
Easy DIY Address Plaque makeover