Well, it's finally here!
The big day for Santa and his elves!
From Setting for Four, I'm wishing you a day filled with joy, laughter, magical memories, a yummy Holiday feast and lots and lots of LOVE!!
Merry Christmas!!!!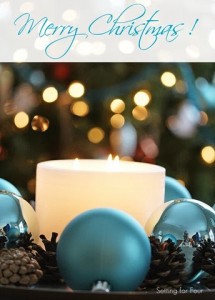 We are having a white Christmas this year! Lots of fluffy white snow outside – so, so pretty!
This is my All Time Favorite Christmas song: White Christmas by the one and only crooner Bing Crosby!
Merry Christmas everyone!!!!!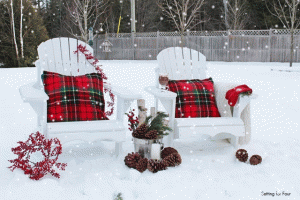 Isn't this a pretty scene?? This is my backyard!
We love to sit on these Adirondack chairs on a nice winter's day by our fire pit with a cup of hot cocoa and some Smores!
See how I made these comfy Adirondack Chairs – the Easy Way!
Have a fabulous Holiday!
Have you seen my Christmas Home Tour? Check it out if you have a chance!