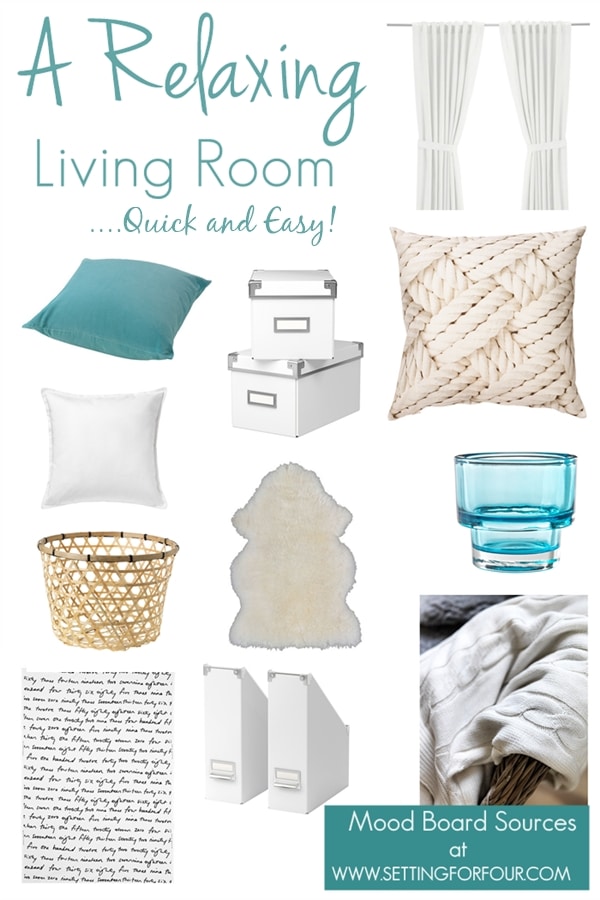 One of the things that I really loved about our house when we first looked at it on our house hunting trip was the bright, cozy living room with it's four large windows that overlook all the trees in our backyard, 10 feet ceilings and fireplace! This is a room we use every single day, where we all congregate after supper for reading, watching TV and generally hanging out. Our living room has basically remained untouched in the decor department since we moved here almost two years ago…. I rotate a few accessories around as the seasons change but most of the decor and pillows have remained the same. So I'm thrilled to be partnering with Ikea for a quick and easy Makeover to refresh my living room and create a relaxing, inviting, and stylish space for my family and friends to enjoy! This makeover really was incredibly quick and easy! Focusing on textiles I added new pillows, curtains, a new throw and used Ikea fabric in some fun ways to give my space a new, updated look instantly.
LIVING ROOM MOOD BOARD
Adding new textiles has turned my living room from 'meh' to va-va-voom! The thing I love about textiles is that they really pack a punch: they add the color, texture, softness and layers that are so important to achieve the 'finished' look of an interesting and comfortable room! The bonus? They let you play with different looks that aren't permanent. I'm super excited to show you my living room makeover completed! In the meantime if you are interested in any of the decor items featured in my Mood Board here are the direct links to the sources: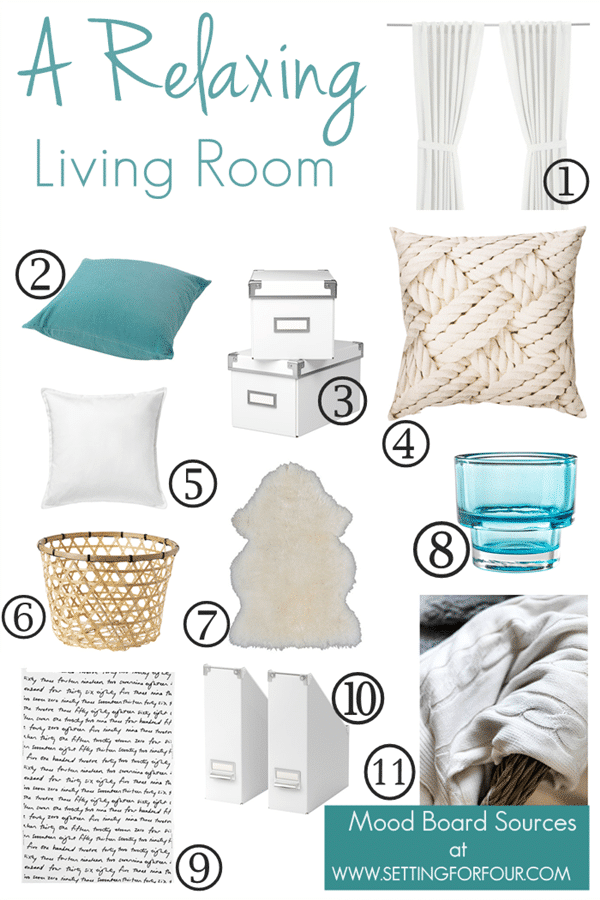 Living Room Source List:
1. Ritva White Curtains 2. Sanela Cushion Cover 3. Kassett Box – white 4. Lisel Cushion 5. GURLI Cushion Cover 6. Hojdare Basket 7. Rens Sheepskin 8. Glansig Tealight Holder 9. Britten Nummer Fabric 10. Kassett Magazine File – white 11. Ursula throw- white
Don't you just love immediate results? Me too! This quick and easy living room makeover has been such a blast to plan and create! It's allowed me to add my personality, love for comfort and family-friendly style into a space that's a hub of our home. I can't wait to show you my completed room – stay tuned!
What do you think of my living room mood board?
What quick and easy decor updates have you added to your home recently?
Disclosure: I am super excited to be partnering with IKEA on this #QuickandEasy makeover. I love working with IKEA because they offer a range of items with great design qualities and price points. They did not tell me what to choose, what to write and all my design ideas and thoughts are 100% my own.