Hello Friends! Today I'm dishing about Living Room Design Ideas, my Design Dash room reveal and where to get the look!
All the furniture and decor sources are linked up at the end of the post!
I can't wait to fill you in on the details of my amazing experience with the La-Z-Boy Design Dash Challenge and my room design!
I'm also sharing with you 7 Tips: How to Design a Living Room from start to finish: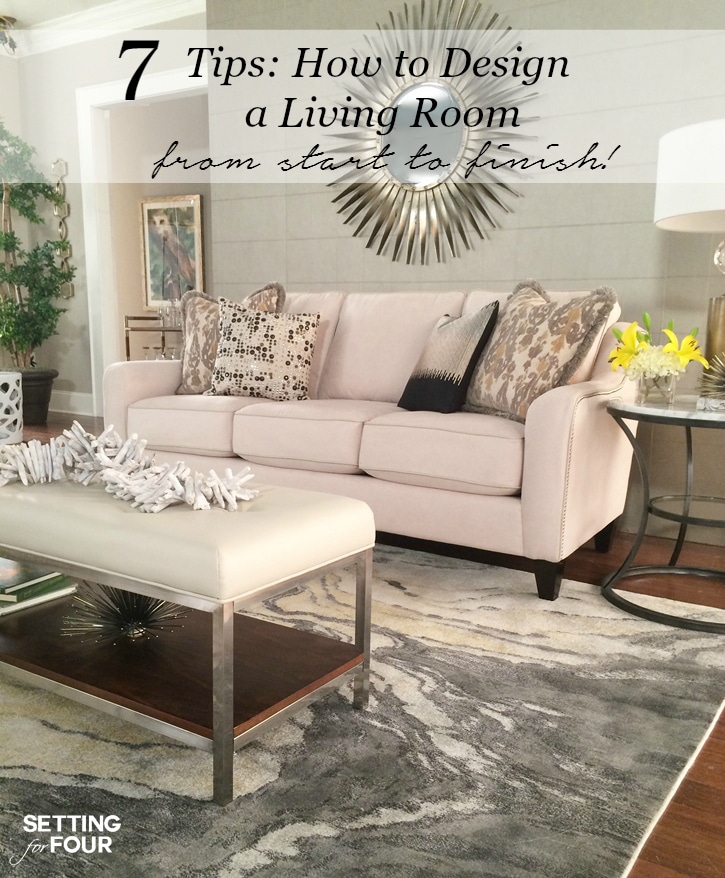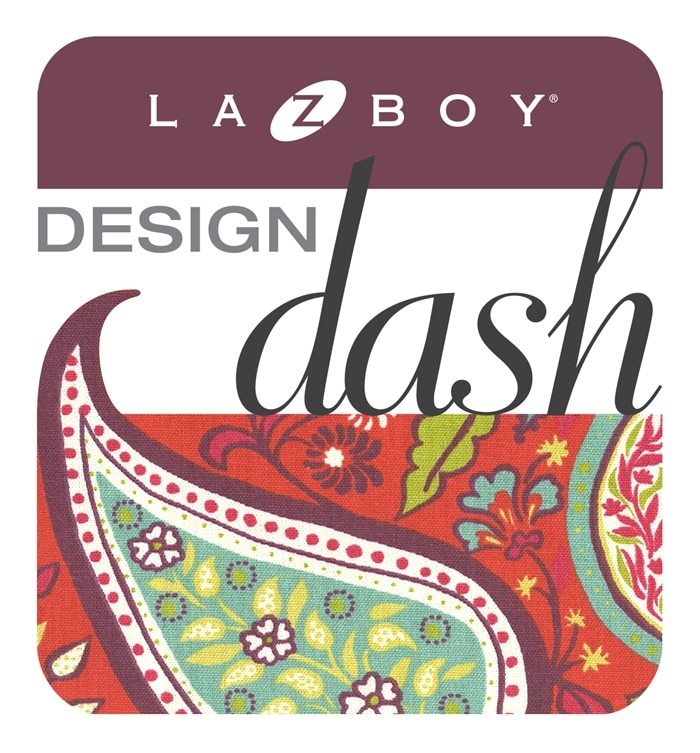 This post contains some affiliate links for your convenience. Click here to read my full disclosure policy.
* * *
Before  getting to this design lesson – I have something fun, fabulous and FREE to give to you to help you with your decorating!
GET YOUR FREE PRINTABLE BEGINNER'S GUIDE TO INTERIOR DESIGN AND DECOR!
Learn the basic principles of decorating that will make you a better interior decorator.
This beginner's guide includes the formula to creating inviting spaces that you, family and friends will love spending time in!
Enter the information in the form below and it will be emailed to you immediately.
Then print it off and keep it handy when you're decorating a room!
I also offer online decorating services so if you'd like some help with your home, check out the information here.

* * *
It all started with a sofa….not just any sofa.
A sofa I personally designed at my local La-Z-Boy showroom with my choices for color,  fabric, contrast piping, accent trims and wood finish for the legs.
This is my La-Z-Boy sofa design:  A gorgeous cream, neutral beauty with coffee colored legs, silver nail head trim and…. wait for it!!!….beautiful piping!
It's so gorgeous!
This article on how to  Understand The Color Wheel & Color Schemes To Become A Better Decorator will help you pick the perfect fabric color for your sofa and room colors.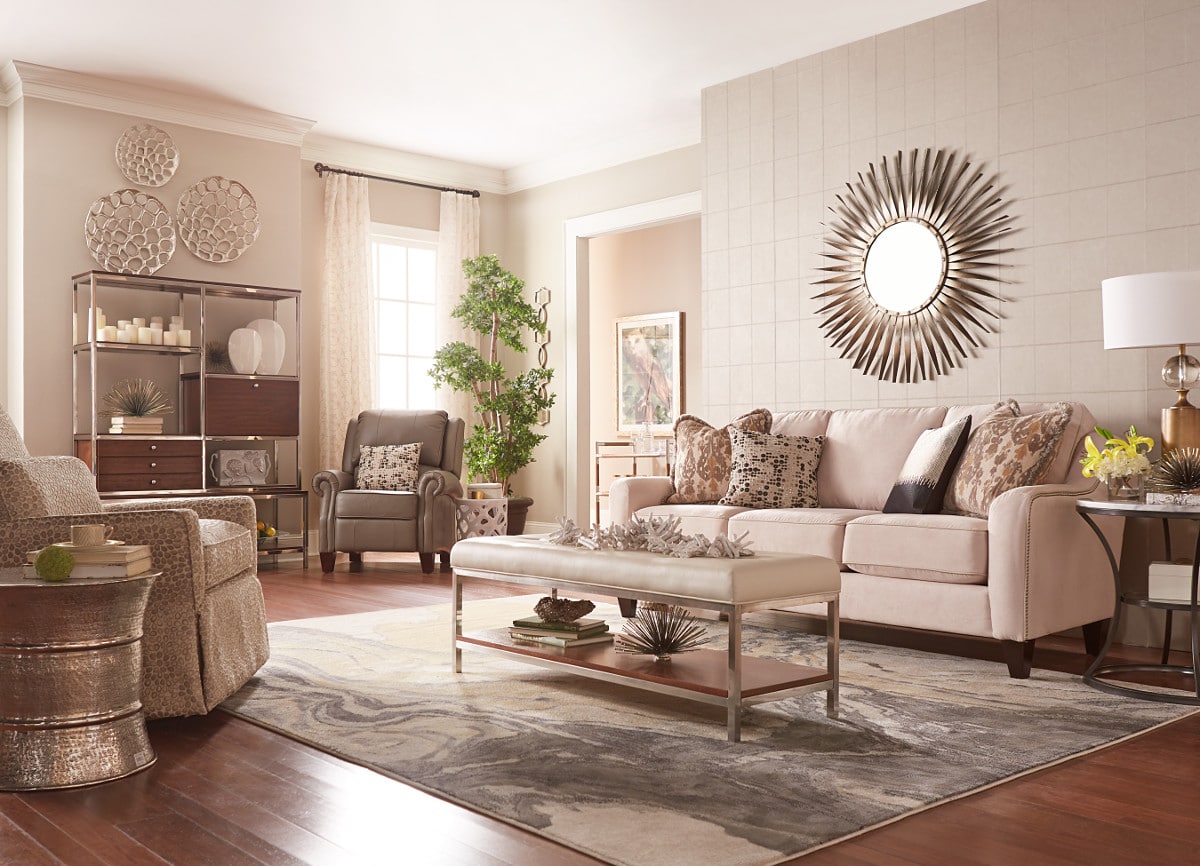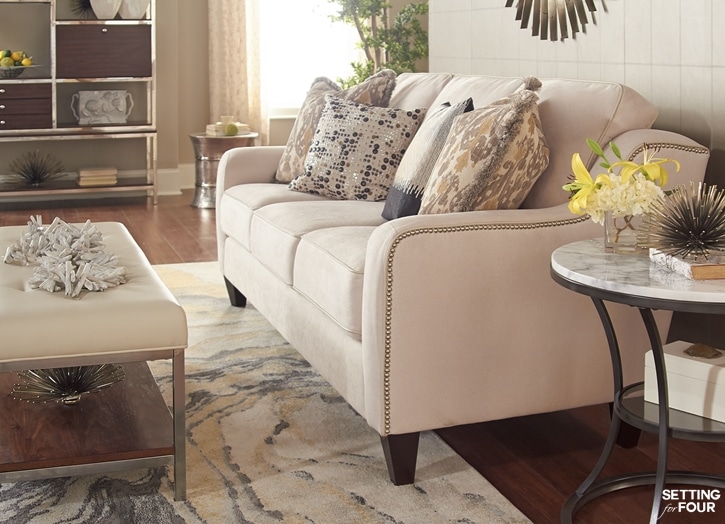 The design dash contest started with an empty room and my sofa.
The challenge was to shop/dash for my living room furniture and decor in just 1 hour (!) at the two story La-Z-Boy showroom in North Carolina.
Plus I had to complete the design in just  7 hours!! Including figuring out a room layout, placing the furniture in the room, decorating with the accents and wall art!
The whole Design Dash was completed in just 36 hours!
It was a whirlwind to say the least!  🙂
Oh yes, and this was the other part of the challenge – I didn't get to see my room in advance of the one hour showroom dash!
So when I was dashing all that I knew was my sofa and the wall color I chose, Mindful Gray (I have this in my own home – love!)
Read this article on How to Pick Paint Colors With Confidence! to help you pick paint colors for your home.
Here's how the challenge went and a video on my room design:
7 bloggers, 5 rooms, one fun La-Z-Boy Challenge!
To design a room in 36 hours from this: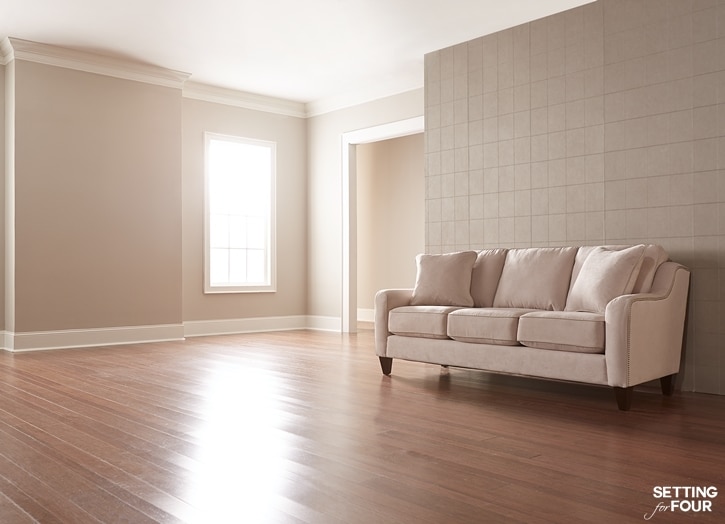 to this: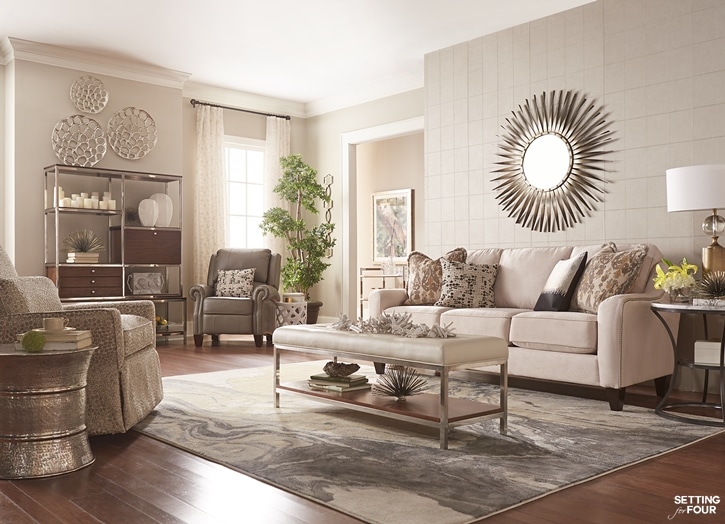 I just love my room!
It was the most FUN I have had in a long, long, long time!
Challenging? Yes! Rewarding? You BET!
Here are some more photos of my Livable Luxe living room design and…
7 tips on how to design and decorate a living room!
1.  Start with a 'Hero' inspiration piece of furniture and a focal point for the room.
My room design began with this gorgeous neutral colored Talbot Sofa – it's my 'Hero' inspiration piece of furniture that creates a statement and WOW factor.  I absolutely love the shape, size and lines of it! It's a 3 seat cushion, 3 back cushion sofa with beautiful scoop arms. It's so comfortable! I chose a creamy chalk color Performance Fabric in 'Hemp', contrasting leather piping in the same color to add texture and subtle elegant detail, silver nail head trim (you know I love my metallics and bling!) and coffee colored wood legs. It's so chic and beautiful!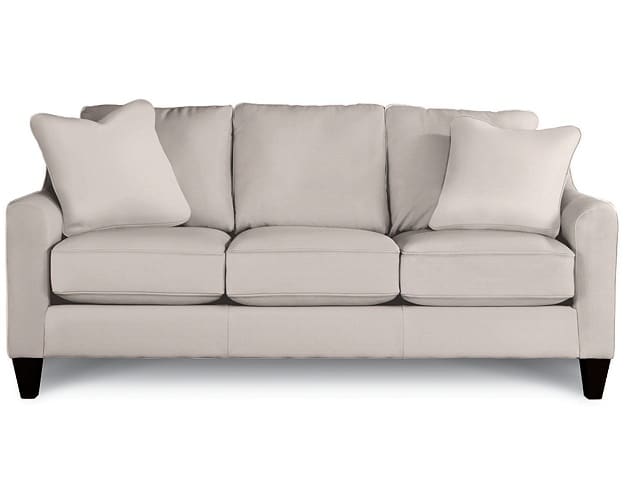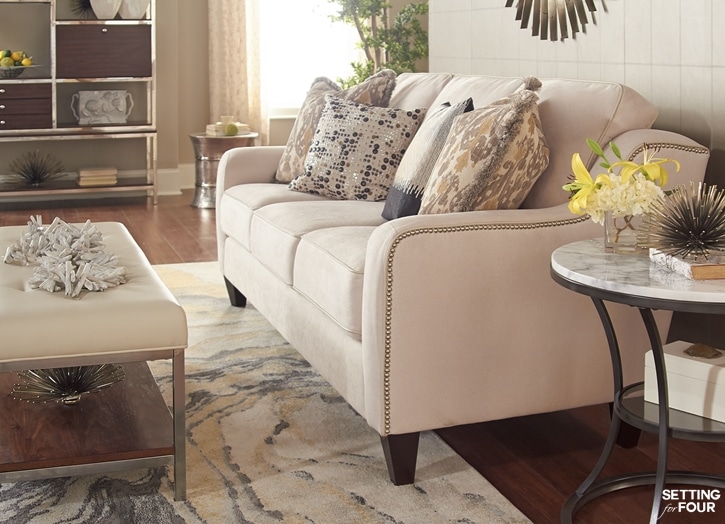 My focal point for the room is a gorgeous over sized metallic gold mirror. This mirror makes a big statement!  It's the first piece I selected in the showroom and it's what I designed the room around. It's glam style, soft metallic finish and clean lines guided all of my other furniture and decor choices. It's what gave my room a feel and style…I call it Livable Luxe.  I designed my room around a feeling of easy, livable, comfortable glamour and elegance. A place to enjoy with your family and a place to entertain.
Love this Bench coffee table! So comfy to put your feet up on and lots of space to add decor and books!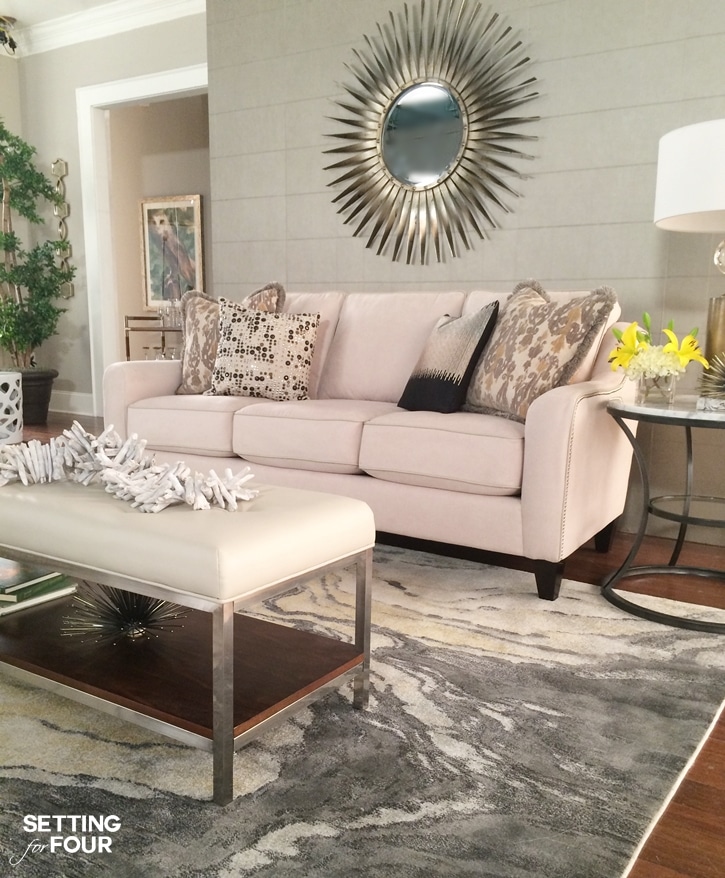 2.  Add Balance:
Every room needs balance. Balance in height, finishes and color. To balance the low sofa I added a tall Storage Wall Unit. It's chrome and wood finish is so dreamy. It offers lots of storage space and lots of space to decorate! It truly is stunning!
I added even more height by hanging these 3 silver bowls above it. They were displayed in the showroom as bowls for a table but I decided to hang them for architectural interest. They remind me of honeycombs! The silver finish on the bowls balances the chrome finish on the shelving unit.
I love neutrals and styled the shelving unit with more creams (candles), whites (vases) and metallics (Gold Metal Sea Urchin accents). I also added lots of stacks of books – another decorating trick to elevate a single decor item and give it presence.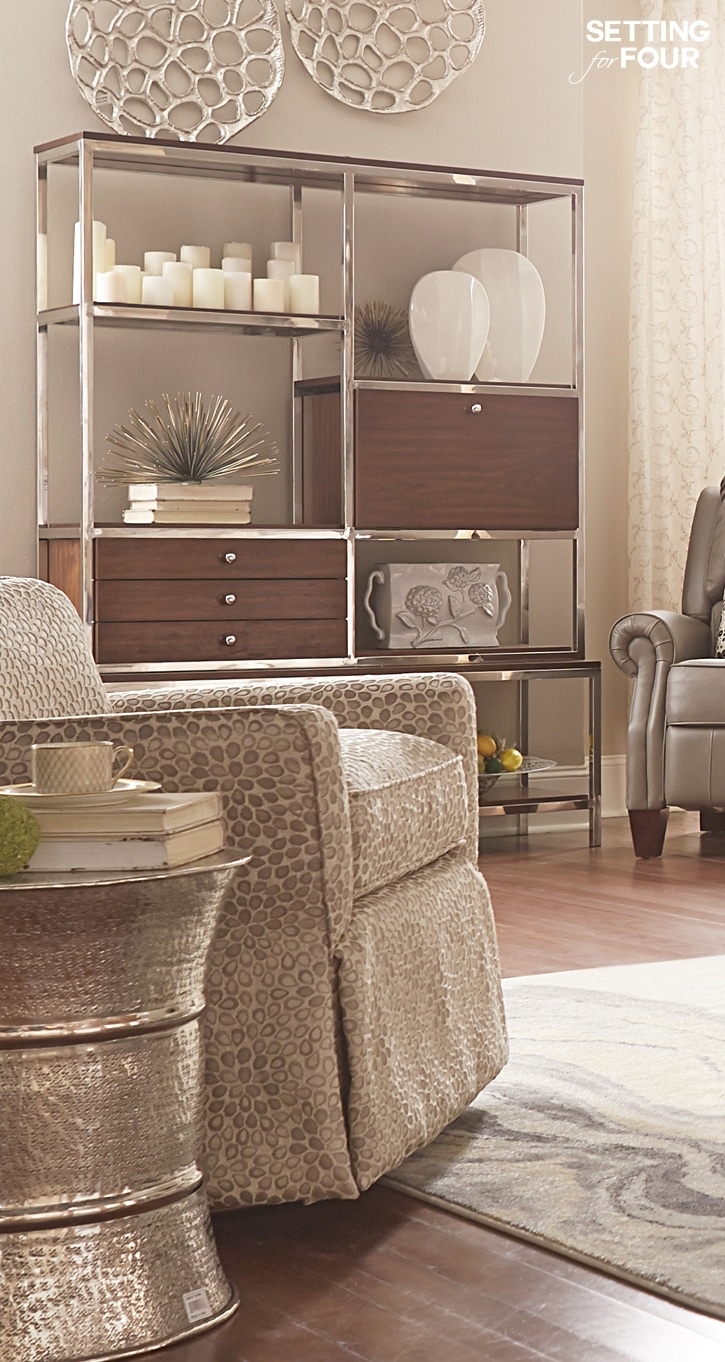 3. Choose your accent furniture
I added a silver bar cart to the back hallway – you can see it peeking out. I added this gorgeous Owl Art over it for balance.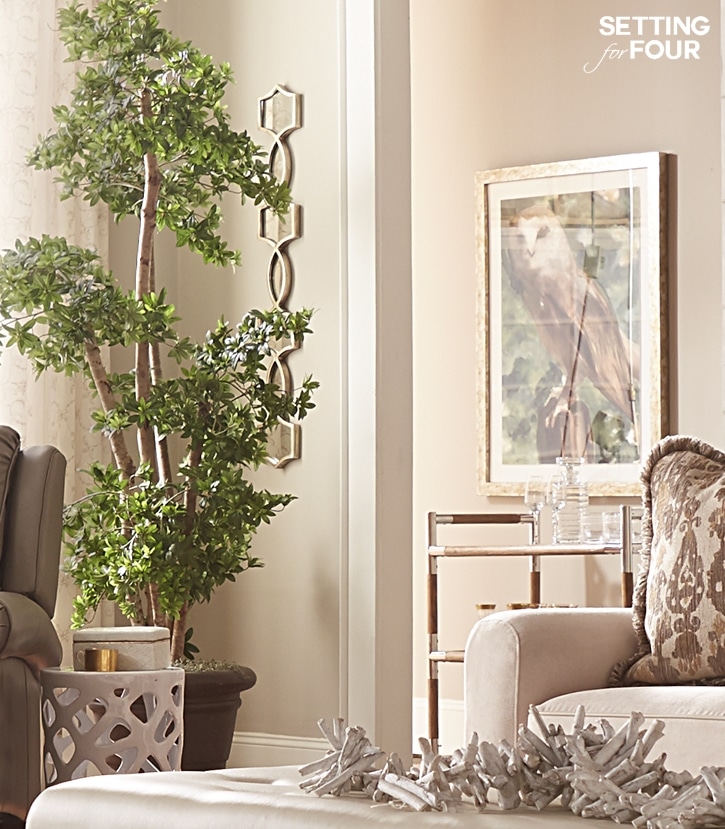 Next I added two fabulous dove-grey leather chairs. These babies recline too! Style plus comfort all the way in my room!
These chairs also have nail head trim detail. It's all about the details! I arranged the chairs so that they flanked the bookcase to create a separate zone in the room.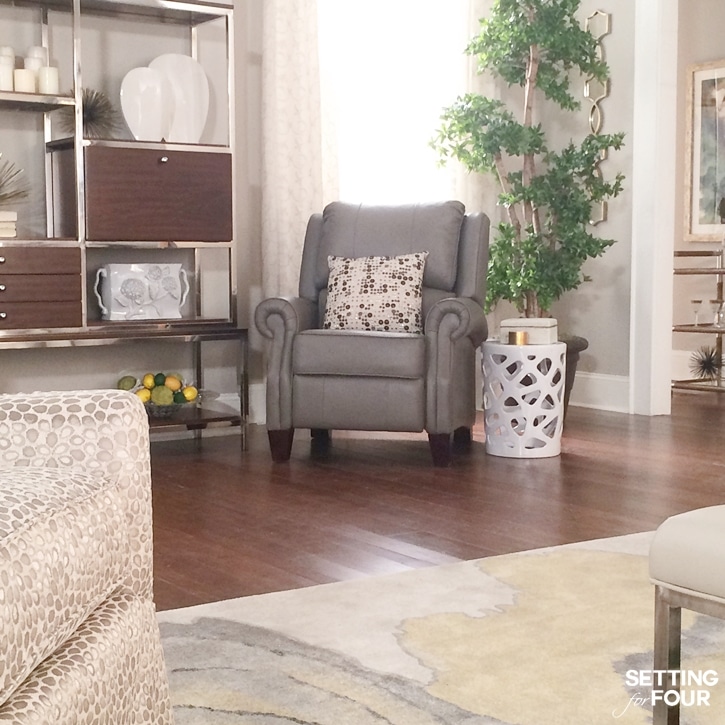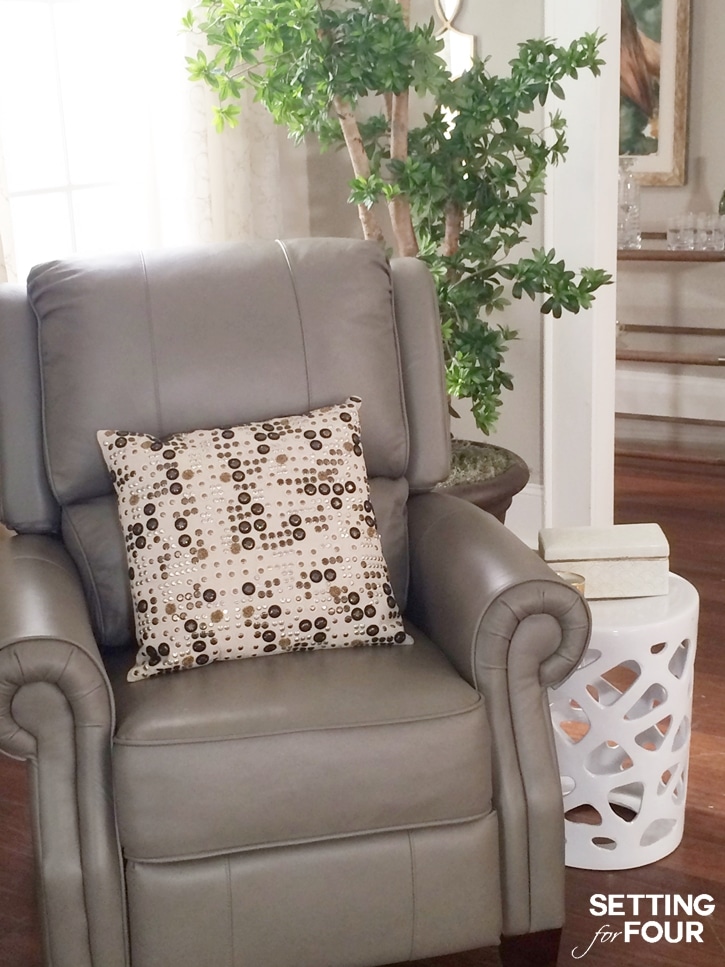 4.  Add patterns:
This gorgeous gray, ivory and yellow area rug  has a beautiful marble-like pattern – I placed it under the sofa so that the front legs were on the rug. The graphic beaded pillows add pattern and a pop of contrast.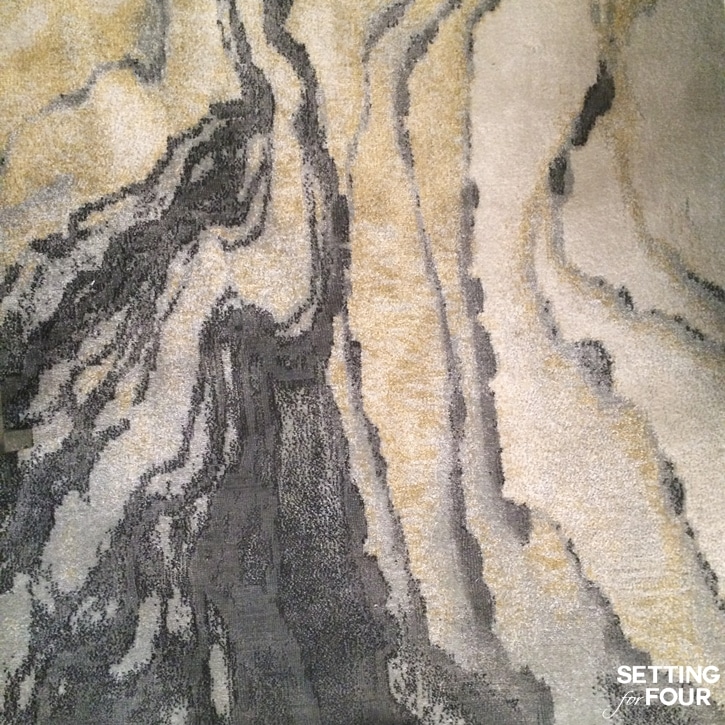 5. Add texture:
Next up layer in texture. I love adding LOTS of texture to my rooms.
I chose this metallic side table for a hit of texture – so beautiful!
A white garden stool in an openwork design adds more texture by the chairs and a place to put a drink and book.
The leather chairs, the beaded pillows and the metallic sea urchin decor all add texture too.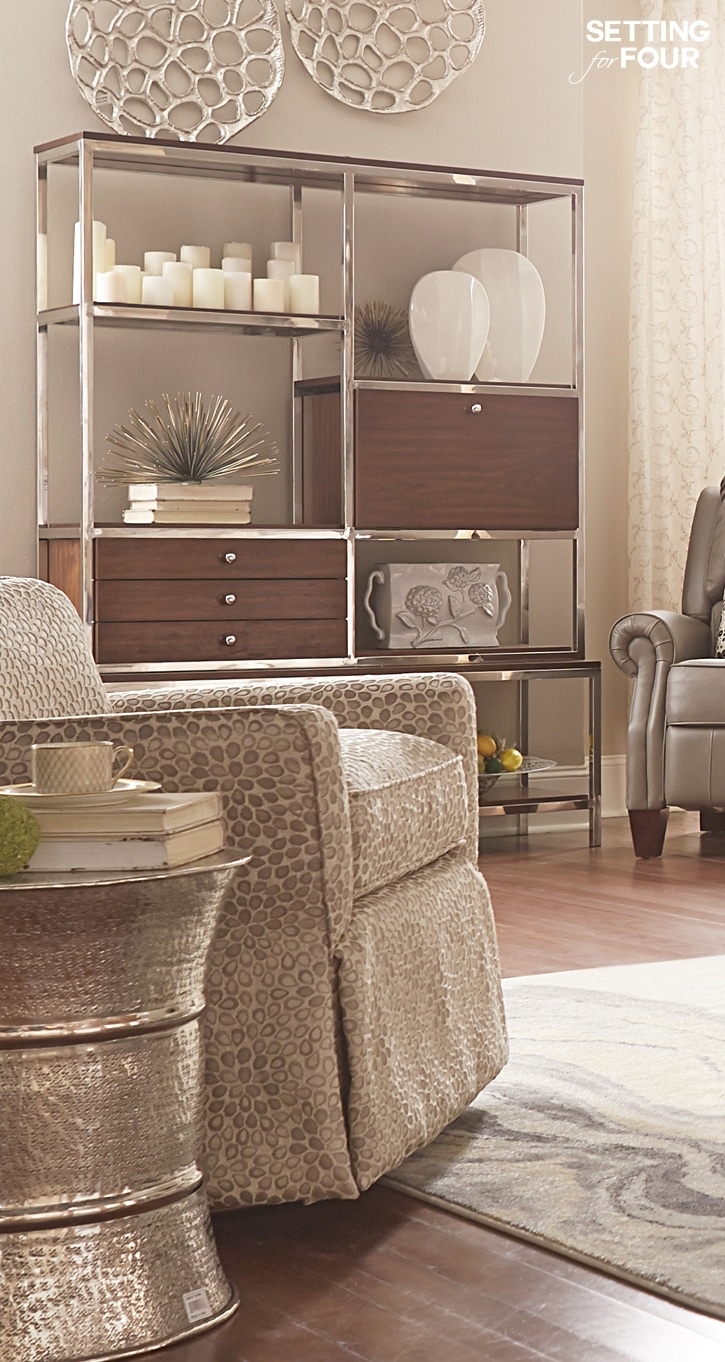 A closeup of a geode I added to the coffee table bench – look at the texture!: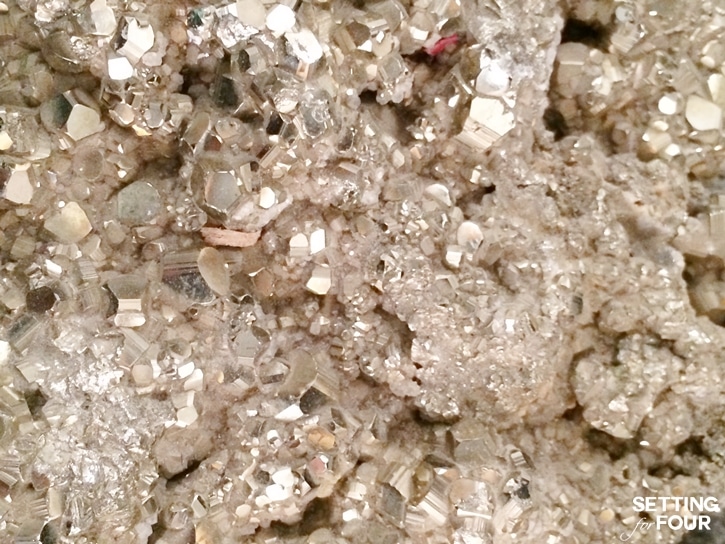 Place decor accessories on books to give them more prescence: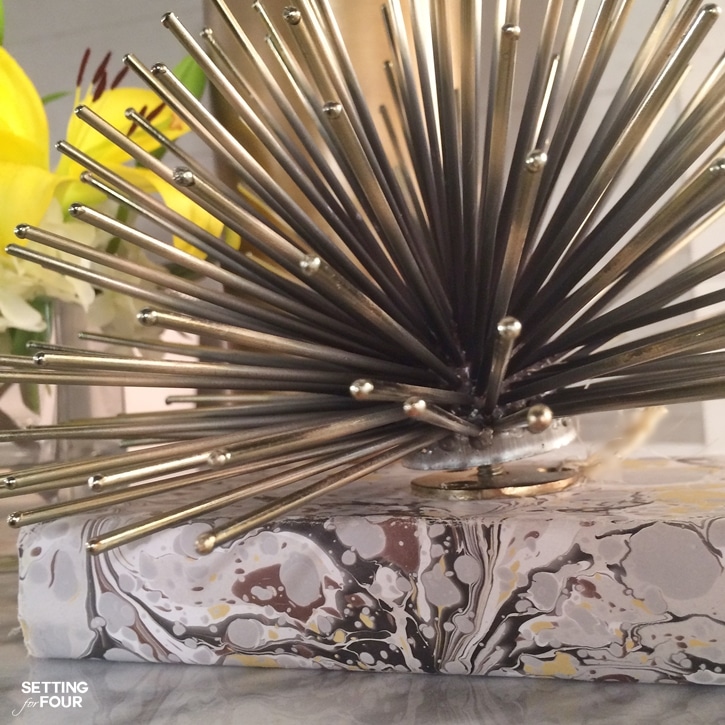 A weathered driftwood garland adds texture and interest to the coffee table:
More texture and metallics: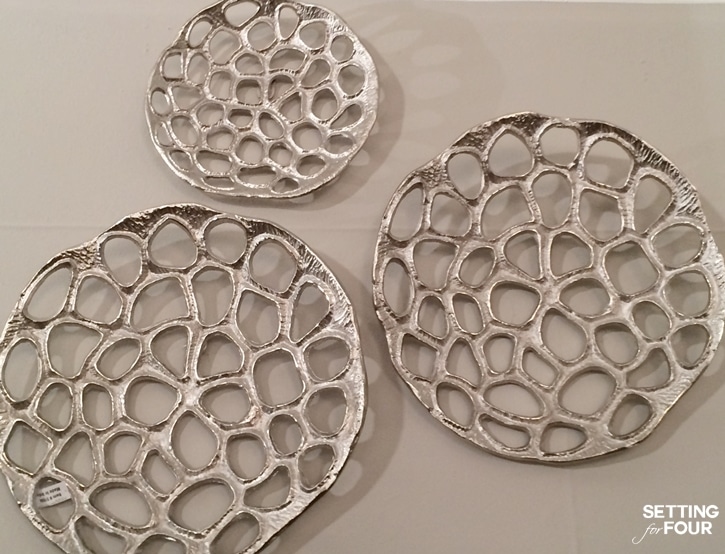 6. Choose an accent color:
Taking cue from the grey, white and soft yellow area rug I chose yellow as my accent color.
When choosing an accent color repeat it throughout your room to make it intentional and create 'flow'.
I added yellow lemons in a bowl, yellow lilies in a vase, and pillows with a touch of yellow too.
round end table with marble top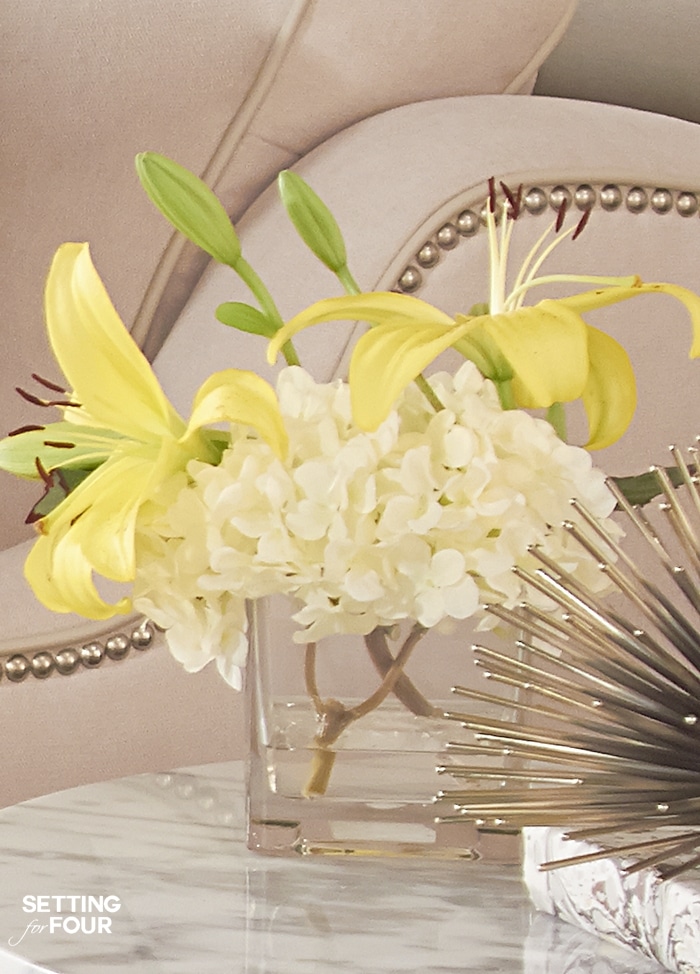 7. Add some greenery.
Adding these two tall potted trees gave height and interest to my room. I believe that every room needs some greenery to give it life and personality.
I repeated the green in the room by adding green mossy spheres in bowls and the Owl Art has some green in it too.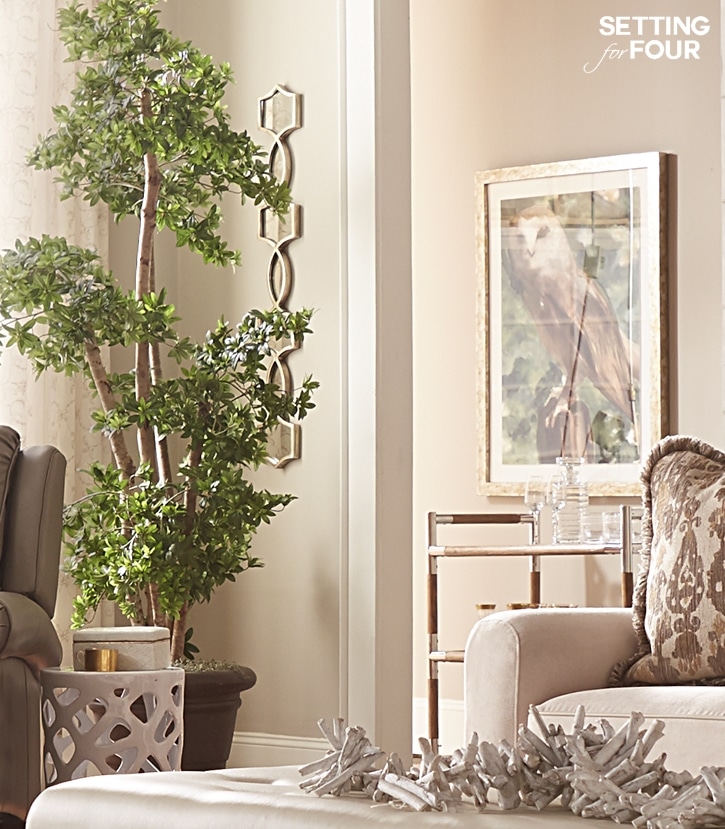 PIN THIS AND SHARE IT WITH YOUR FRIENDS!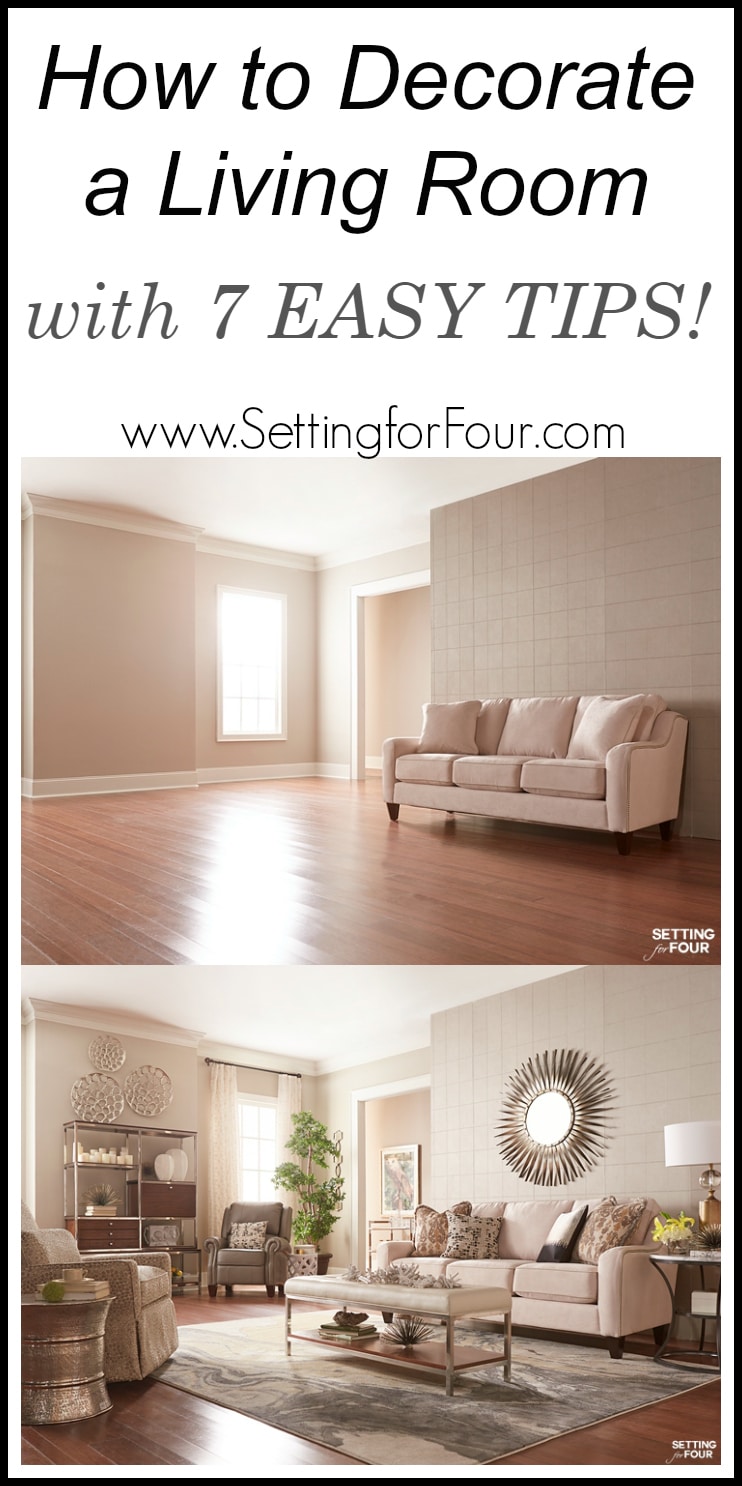 I'm hoping you love creamy sofas with nail head trim, dove gray buttery leather, metallics, texture, marbled area rugs and statement mirrors! 🙂
Furniture and Decor Sources:
Round end table with marble top
Bar cart (similar)
Sunburst Wall Mirror over sofa
Narrow Wall Mirror
Silver plates on wall (similar)
Potted Tree (similar)
White Vase (similar)
Paint color on walls: Mindful Gray. This is a gorgeous warm gray color that I use in my home –  see all of the Paint Colors In My Home
Shop the look! Click on the images below to see more about each item!

I hope you love the room I designed as much as I do and enjoyed my Living Room Design Ideas: 7 tips on how to design your own living room from start to finish!
Check out La-Z-Boy for stylish, comfortable home furniture and more design inspiration!

~ ~ ~
Update: This giveaway is now over- thank you to everyone who entered!
 ~~~  …and now my friends here's the details on the $10,000 giveaway contest! Ready?   ~~~
This is a contest where you pick your favorite room! I sure hope you pick mine! 😉
Every vote counts as an entry for a chance to win $10,000 in La-Z-Boy furniture – what an amazing prize!
And you can vote once per day until December 20th, 2015 when voting ends.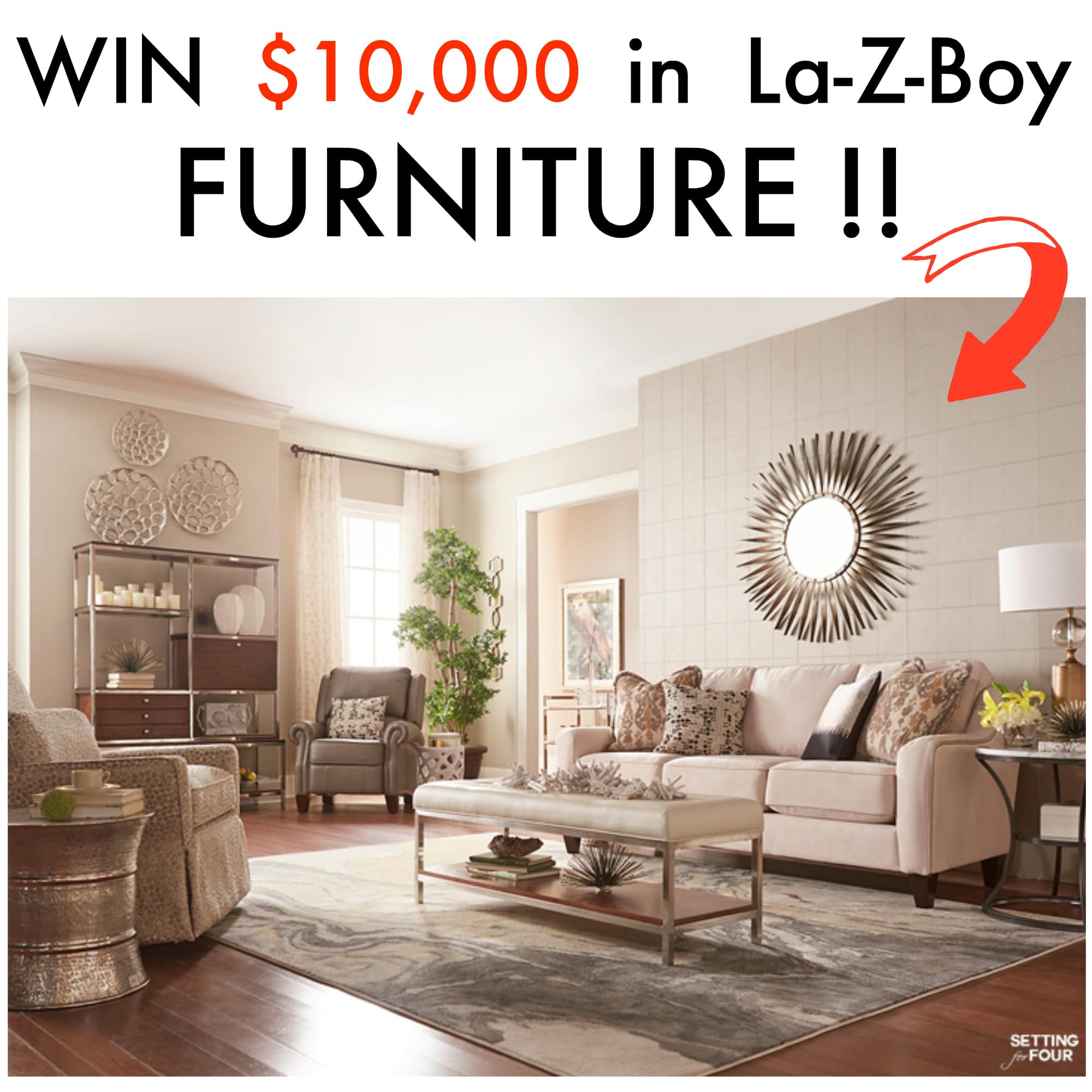 ~ ~
….to add to the fun, my friends at La-Z-Boy are also allowing me to give away this La-Z-Boy ottoman to one Setting for Four reader! Whoo-hooo!
Enter the rafflecopter below  – Open to USA and Canada – Good Luck!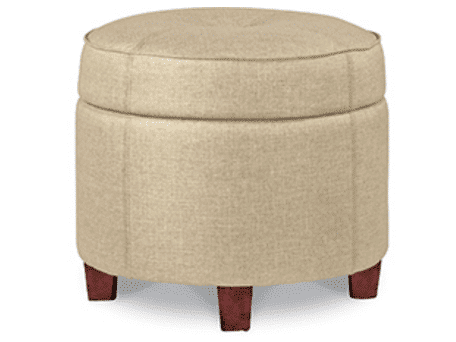 Disclaimer:  This post is in partnership with La-Z-Boy.  All opinions are completely my own.
See all my home furniture and decor!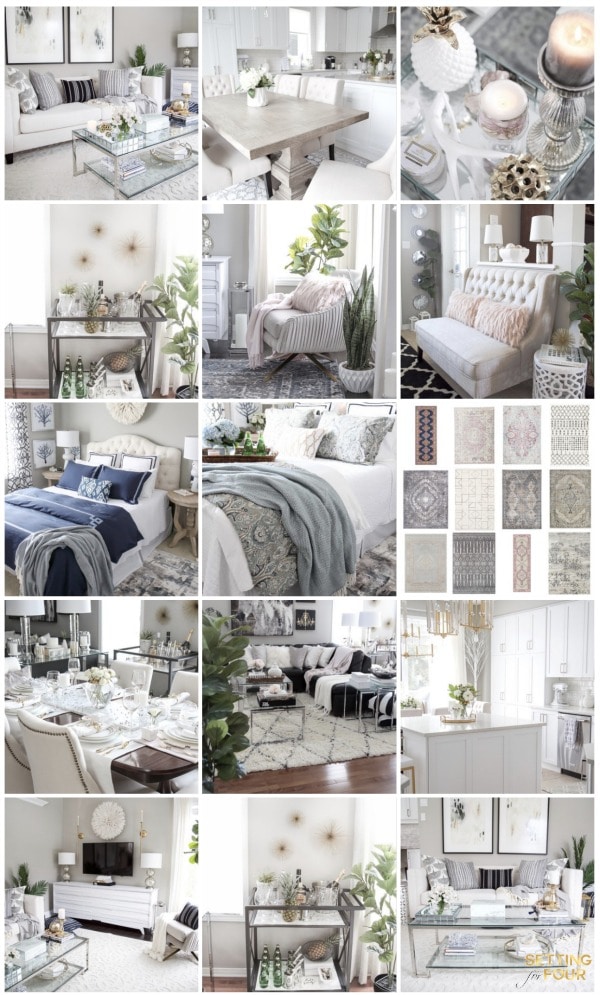 7 Ways To Make A Small Living Room Feel Larger Instantly!

Living Room Makeover – New TV Stand, Wall Art, Rug & Pillows!