Even though it snowed today..
..and it snowed yesterday and the day before…
…and we have several feet of snow in our yard..
I'm thinking spring! Snow, snow go away!
So, to bring in some spring to our home and add a touch of greenery and nature ….to banish all the white outside, I whipped up these embellished moss covered vases!
This DIY Vase would be wonderful for wedding table settings too!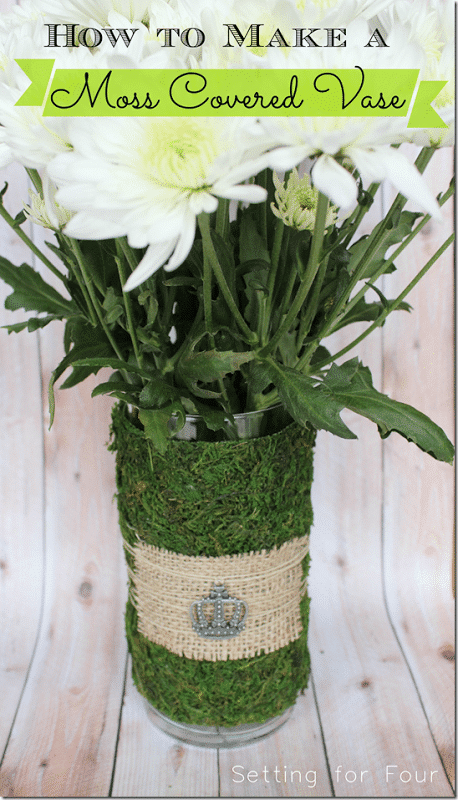 I repurposed the vases that were covered with my DIY Burlap Hurricane Sleeves, which were the perfect rustic touch for fall and winter; but they needed a bit of a spring makeover!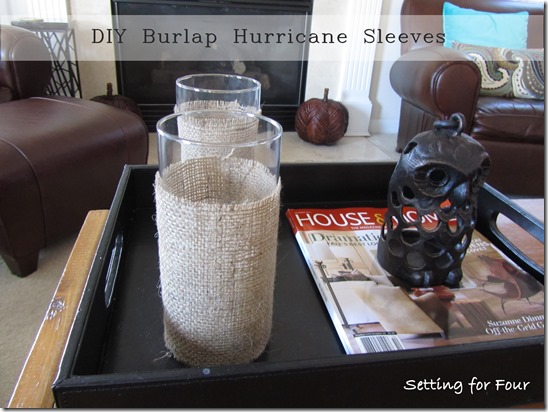 As I mentioned in my DIY Moss Sphere Tutorial and Moss Projects – Decor Ideas roundup, you know how much I adore moss décor, so I thought the perfect way to add some spring to my vases was to add some…pretty green moss!
How to decorate a vase with moss!
Supplies: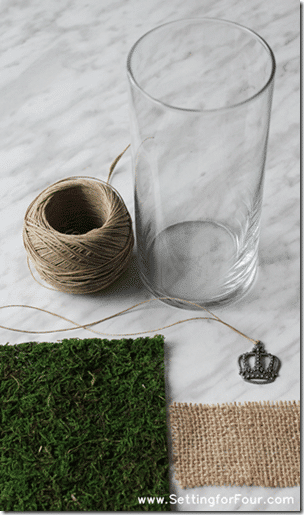 Clear Glass Vase

Moss mat- Cut width to whatever size you want – either to cover the hurricane completely or (like I did) a bit shorter to let the glass show on top. Cut the length to 1 inch wider than the hurricane diameter. You will have a rectangle.

Burlap- 2" x 3" rectangle. Fray edges.

Twine – 2 pieces, one piece = 3 feet long and second piece 18 inches long.

Metal Crown embellishment

Scissors

Hot glue
Tutorial:
Roll the moss piece into a tube with short sides together and pin together so that you can test to see if the sleeve will fit over the hurricane easily. If you make the tube too small you wont be able to get it to slide over the hurricane. Hot glue the 2 shorter sides together so that one side overlaps the other.
Slip on vase.
Place burlap piece on moss and wrap the long piece of twine around it several times to secure to vase. Tie ends of twine in knot and cut ends short.
With the 18 inch piece of twine, loop through the metal crown embellishment to secure (it has a hole on top for the twine to go through) and wrap around the vase so that the crown lays on the burlap square.
Enjoy. That's it – simple and done!!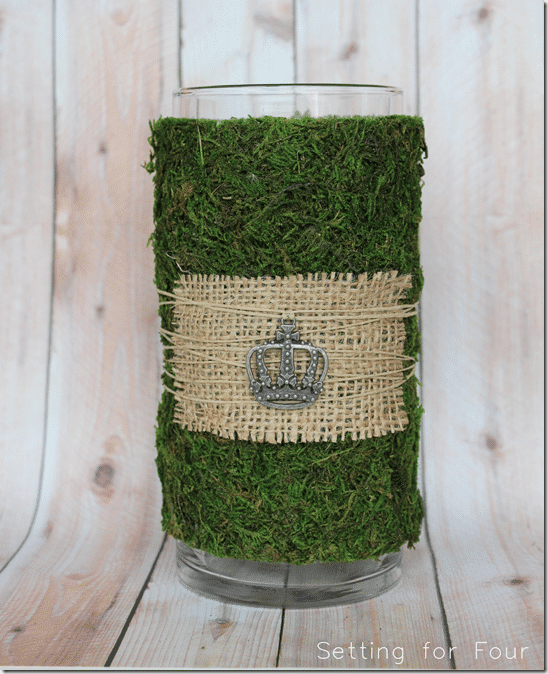 Check out the 'Keep Calm and Carry On' Crown Charm!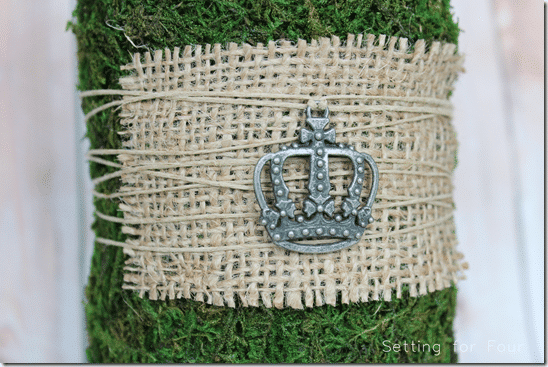 I filled my vase with these gorgeous white mums from the grocery store: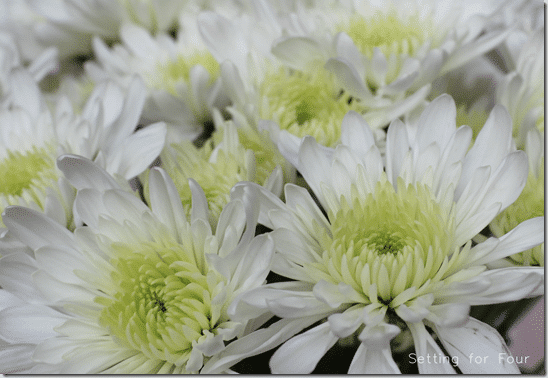 Are you ready for spring?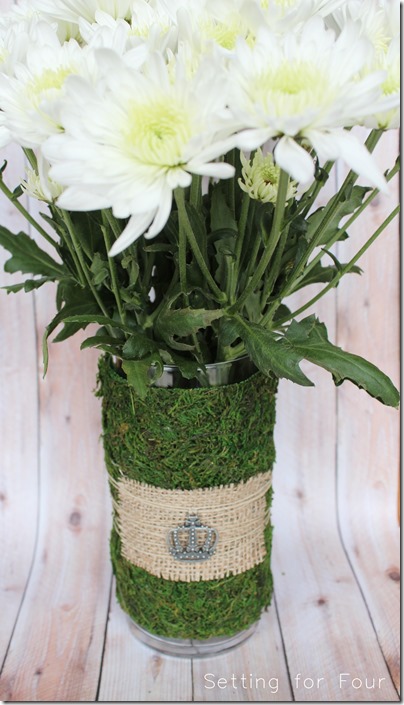 ~Today I'm hanging out with Mrs. Hines Class on Google plus! ~
I'll be showing you how to make these DIY Vases!
Join Sharon from Mrs. Hines Class and several other co-hosts as we share some great how-to tips for your Spring garden. You'll be getting itching to get out your pots and plants after the show!
You can watch the hangout here: After Class with Mrs. Hines: Spring Gardening on Google plus at 2:00 pm EST.
Hope to see you there!
~ ~ ~ ~
Have you just discovered Setting for Four?
If so, I'd love for you to follow me by email so you never miss an update! Click below!
* Thank you SO much for coming by for a visit! I love to hear all of your comments! *
Heather
Written by Heather at Setting for Four
Setting for Four is a home design, décor and lifestyle blog. Focus is on home renovations, crafts, DIYs, tutorials, recipes, as well as family friendly design and decorating ideas that won't break the bank or sacrifice style.

You can find Setting for Four on Google+