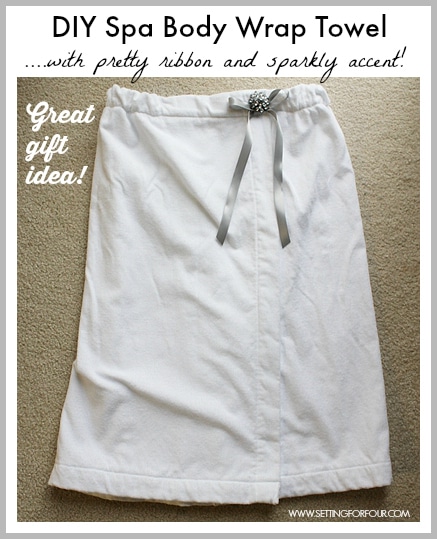 DIY Spa Body Wrap Towel with ribbon and sparkly jewel accent – easy to make and great gift idea! It's a beautiful Mother's Day, Christmas, Birthday gift idea!
I was at Goodwill last week, heading towards the furniture area, when I passed a rack of clothing and out of the corner of my eye I spotted this brand new Spa Body Wrap Towel!
Easy DIY fashion sewing project for beginners! Make this GLAM spa body wrap with ribbon and brooch accent using a ready made spa body towel!
How to Glam up a Spa Body Wrap Towel
I decided it was a little boring and being a DIY'er-who-can't-leave-well-enough-alone, had to add something to glam it up a bit and give it a makeover:
Supply list:
I sewed on a sparkly brooch.
Next I added some beautiful grey ribbon which I tied in a bow.
And here's the 'After': Glam Spa Body Wrap Towel!
Do you like the 'after' version? I think it's so pretty!
What a beautiful gift this would make for Christmas, Mother's Day or a birthday!
Here's a fun idea! Make one of these and put it in a DIY gift basket filled with bath salts, votive holders, candles, wine and wine glasses for a bridal shower gift!
You may also like:
How To Make A Gift Basket and Personalize It!
DIY Pillow Cover 5 Minutes to Make!
Quick and Easy Ribbon Trimmed Kitchen Towels
12 Best Wedding Registry Stores and a Comparison of Their Benefit Programs