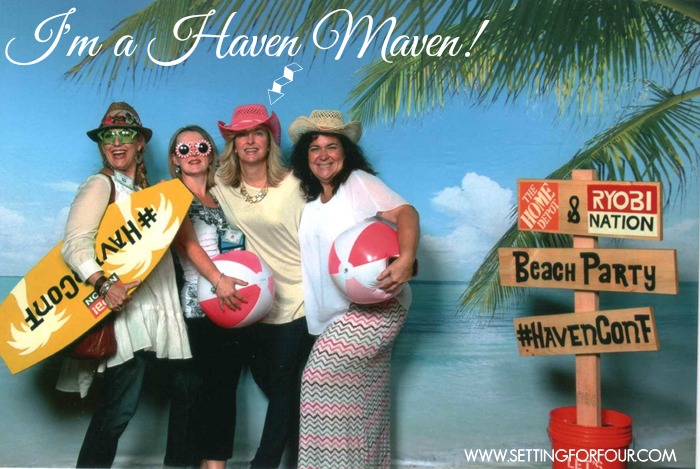 Roughly 2 weeks ago I attended Haven Blog Conference in Atlanta Georgia to hangout and network with my fellow bloggy buddies, learn new blogging tips and tricks and meet top Brands in the Home and Lifestyle Blogging niche….and what an amazing fun filled 3 days I had!
The fun started when I met my gal pals Kim Sand and Sisal, Jessica 4 Generations One Roof, Nancy Artsy Chicks Rule and Christy from Confessions of a Serial Do It Yourselfer at the Atlanta airport and we all caught a ride to the Crowne Plaza Ravinia Hotel ! We were so excited to check in and hit the Welcome Reception hosted by Ballard Designs!

Our Hotel – the Crown Plaza Atlanta Perimeter at Ravinia – look at all the lush Georgia plants and greenery!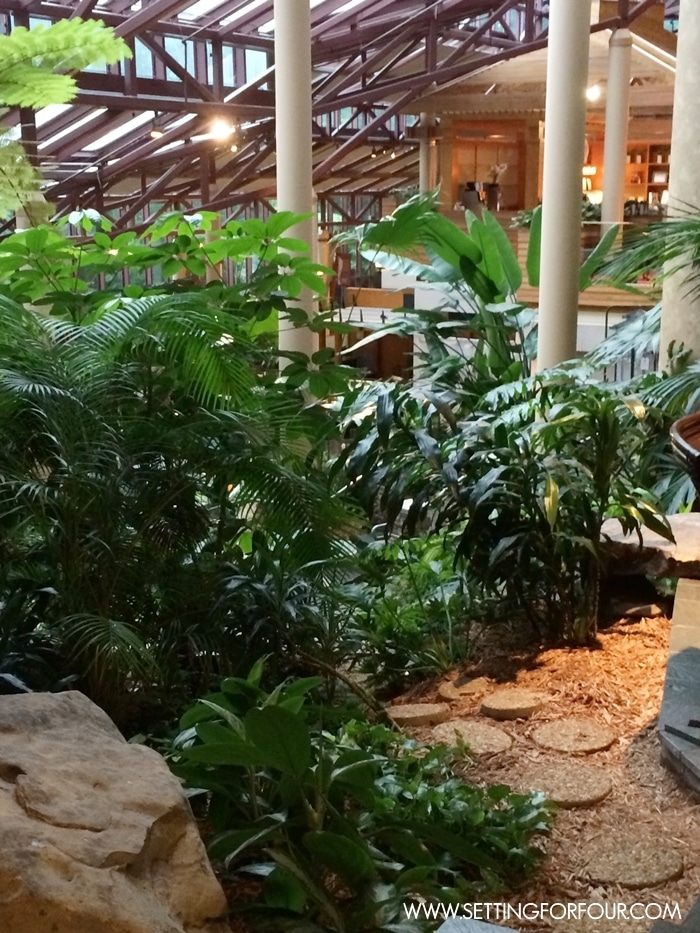 After checking in I picked up my Haven Maven swag bag which contained all of these product samples from the Brands attending Haven. What a lot of loot!! Yes that's a Waterpik Shower Head!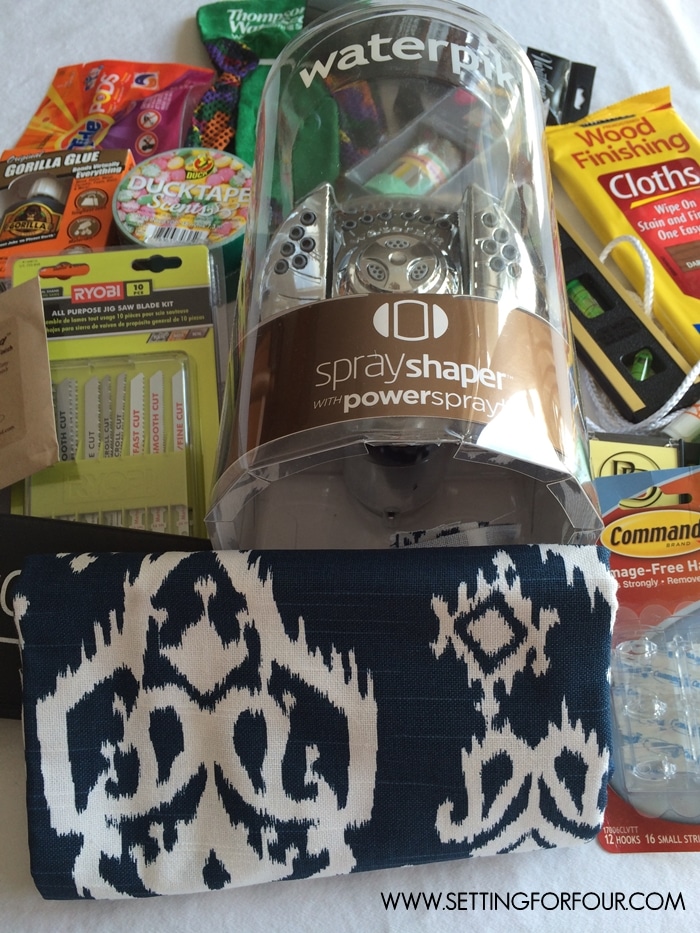 Check out this gorgeous navy and white Ikat fabric I received in my loot bag from Online Fabric Store!! I see pretty new ikat pillows in my future!!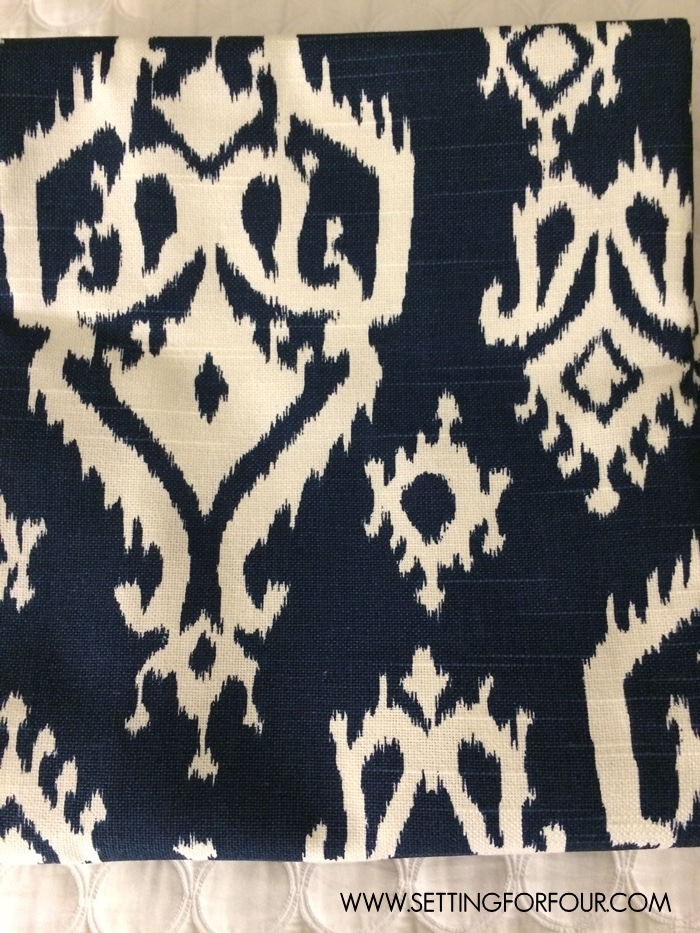 Haven Swag Bag from Ballard Designs– the prettiest robins egg blue burlap tote bag!: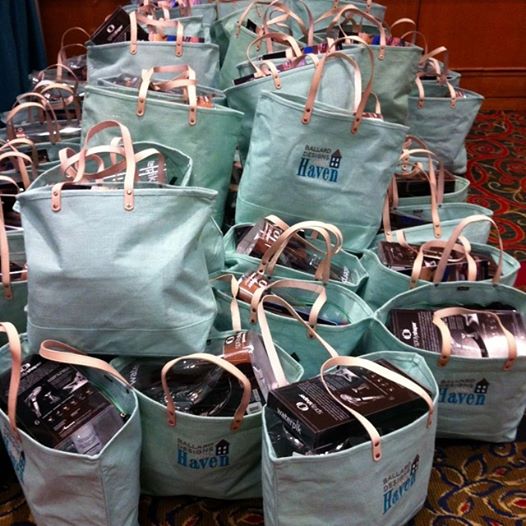 source
The Ballard Designs Party was so much fun! I took lots of pictures with my friends, met lots of new bloggers and mingled, mingled, mingled!
Wendy at Front Porch Mercantile, me and Daune at Cottage in the Oaks
Haven's first conference day on Friday started off with a bang! Home Depot presented Chip Wade from HGTV's 'Designed to Sell' who gave an inspirational speech on thinking big with DIY Projects!
Main takeaway: Create Timeless Appeal with your DIY Projects. (Sorry for the blurry pic!)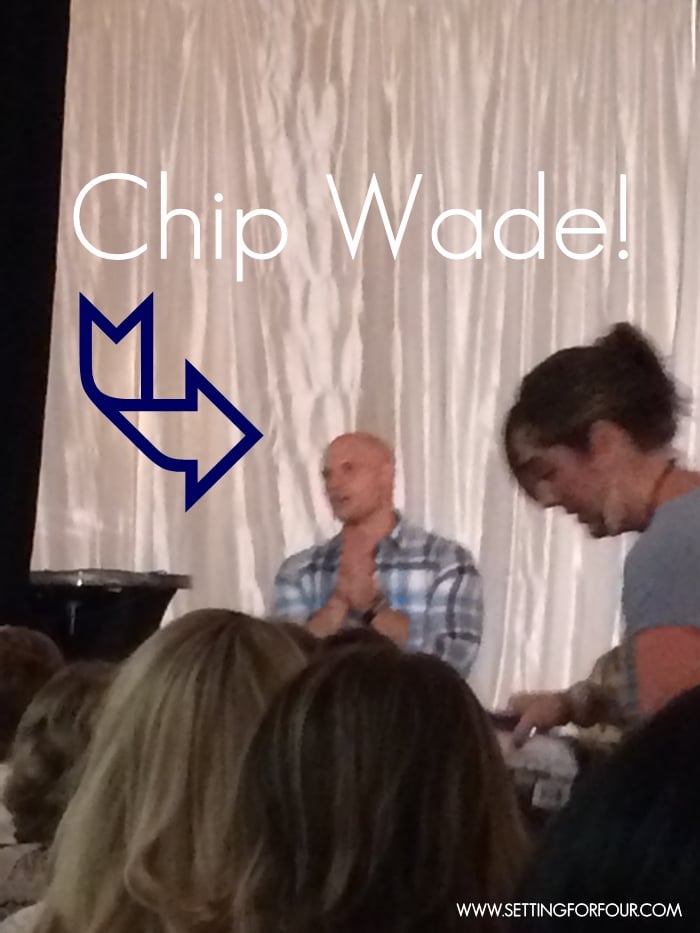 Friday was filled with lots of fabulous blogging sessions. I attended:
We Heart Brands – Building Meaningful Relationships with Companies – presented by 3 Powerhouse Bloggers: Mandi– Vintage Revivals, Diane– In My Own Style and Brittany– Pretty Handy Girl.
These ladies have the most incredible Brand experience and are true leaders with their Brand know how and savvy! They shared fabulous tips on how to connect with Brands, pitch ideas that will knock their socks off and being a Brand Ambassador.
Next up, How to achieve High End DIY. Presented by Courtney- A Thoughtful Place, Kirsten- 6th Street Design School and Danielle – Danielle Oakey Interiors, 3 super stylish design and decor bloggers! They showed us how to create sleek, sophisticated DIY projects.
Danielle Oakey showing us how to make and style High End DIY Projects: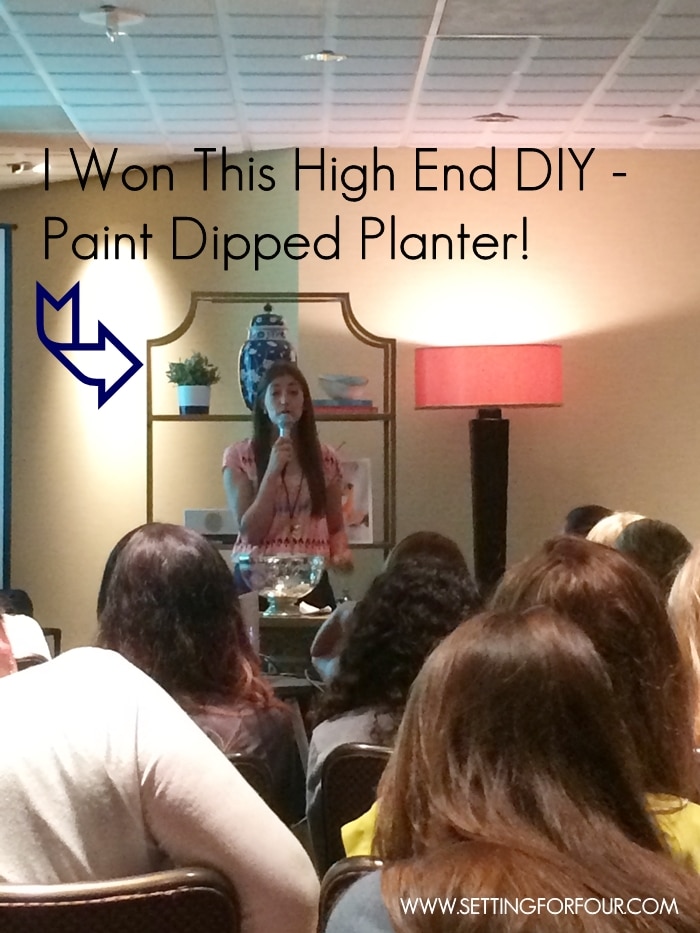 I even won a High End DIY that they demonstrated in the session – this DIY navy dipped planter handmade by Danielle Oakey,! I just adore it! I've placed it in my Salt Oak Finish Kitchen Storage and Display Bookcase!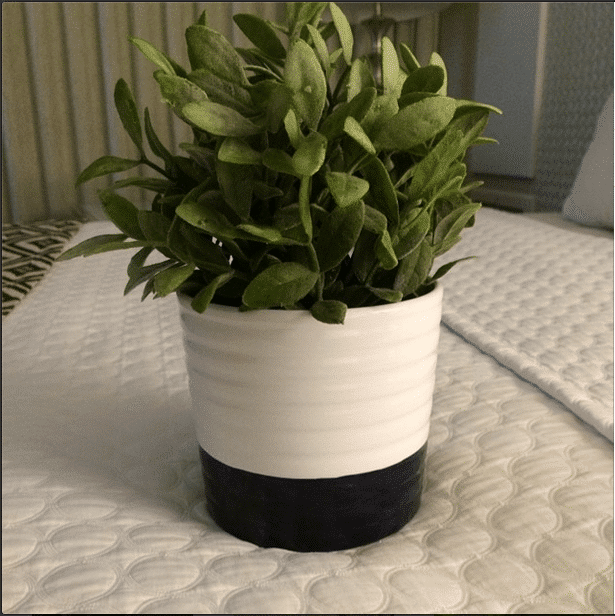 My 3rd session was Photography Styling and Creating Beautiful Shots with Kristen – The Hunted Interior and Lucy – Craftberry Bush. These ladies showed us how to photograph interior rooms as well as vignettes and how to style photographs to make the most impact!
Saturday's sessions included:
Creating Video Content for Brands, Youtube and Television: Presented by Jen – With Heart and Katie and Jon- Sew Woodsey. Lots of tips on equipment, layout and music were given.

Making Money with Dan Morris. He offered lots of tips on how to maximize blog ad revenue – wow there was a ton of info he presented that I had no idea was even possible!

Better Photography Tips and Tricks with Christina Wedge, a Professional Interior and Lifestyle Photographer. This girl is so funny and gave lots of tips on lighting, styling, viewpoints and more!
I won a spot on the Ballard Coffee Table Challenge! In 20 minutes in 3 teams of 6 we had to style a coffee table with Ballard Designs home decor items!! This was so FUN!!!! I had a blast to say the least! We had to run behind a curtain which was stocked with vases, flowers, accessories galore and grab what we could…run to our table and style it…with everyone's collaboration, in just 20 minutes!
Here is our styled coffee table: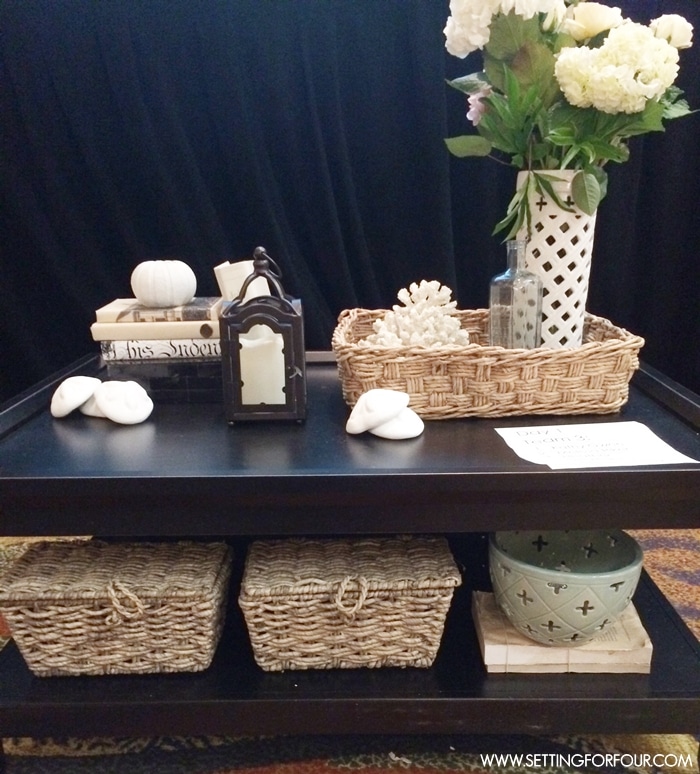 I would have played with the flowers more but I think in 20 minutes we did a super job, don't you?
I met with and spoke to lots of Brands, who had the most fun instagram photo sets!
Moen Kitchen: In the Kitchen Cooking up a storm with Christine – The DIY Dreamer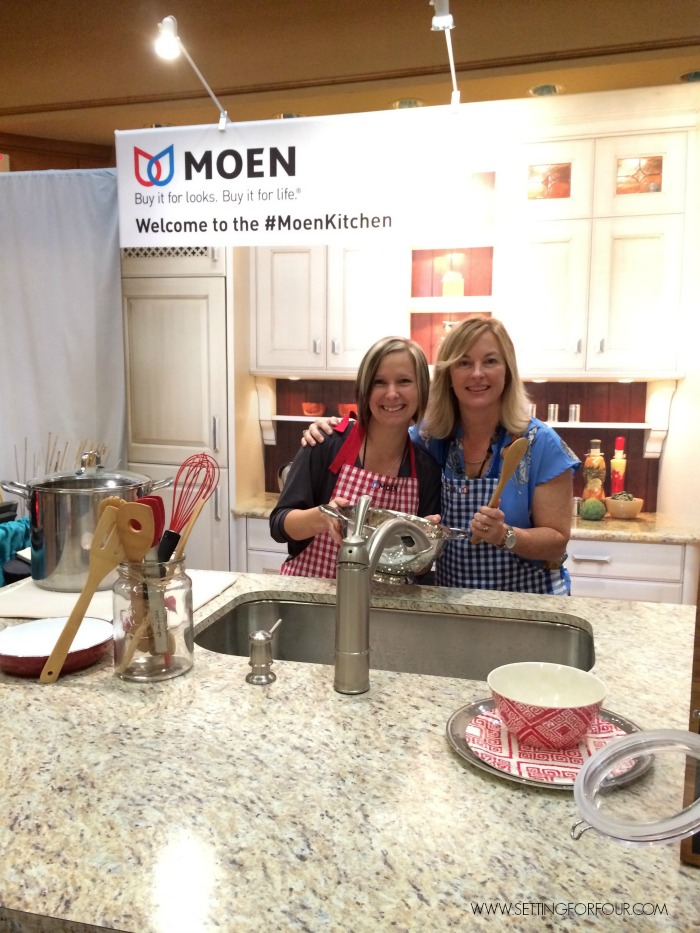 Waterpik: Sharing some bubbles in the shower with Wendy – H2O Bungalow, Vidya – Whats Ur Home Story and Me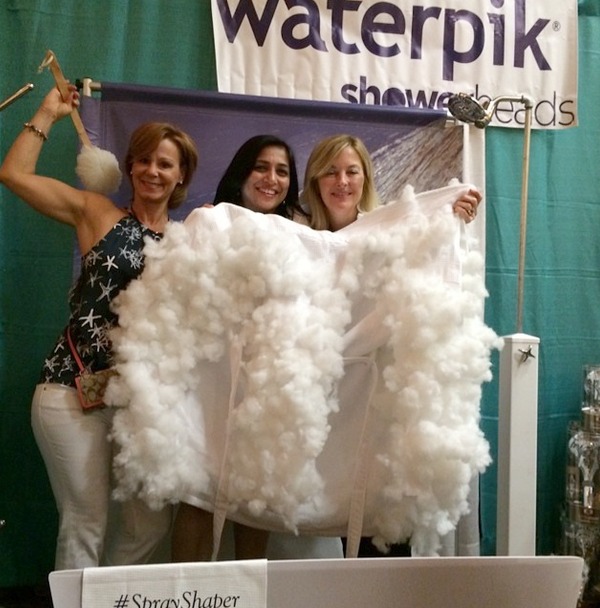 Dancing with my girlfriends at the Farewell Wave Party with Home Depot and Ryobi!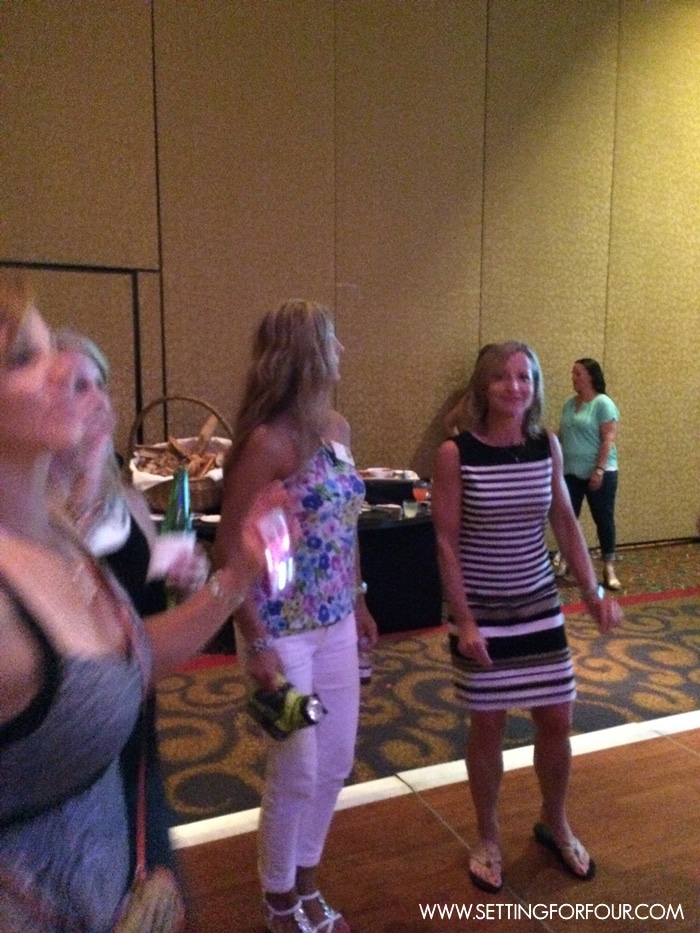 Beach Party Photo Shoot at the Farewell Wave Party with Home Depot and Ryobi!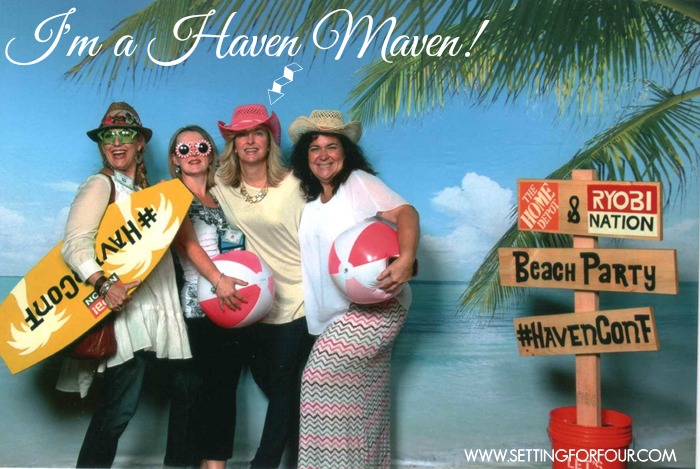 These two hilarious videos completely sum up the fun I had with all of these amazing women (and men!) that I had the privilege of connecting with at Haven!
…and yes we have a theme song! 'Blog Blog Baby' Video:
I'm a Haven Maven!! I hope to see you at Haven next Year!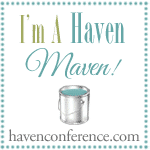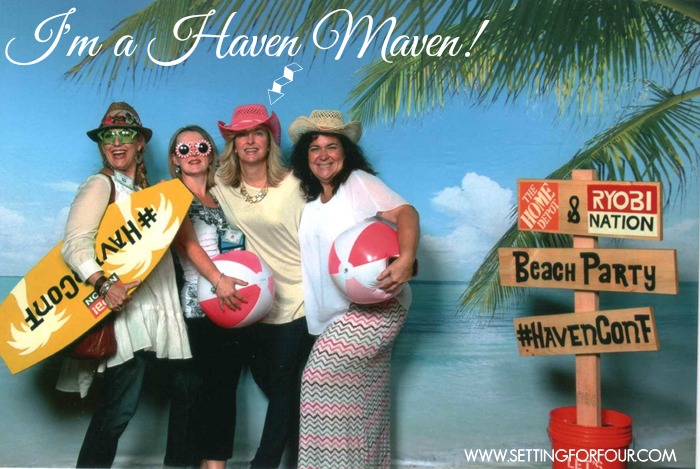 Sharing at:
Tidy Mom Design Dining and Diapers