Happy Monday everyone! Did you all have a great weekend?
I did! I went to Ikea and bought some picture frames and made a yummy desert that involves Swiss Chocolate – MMMM!! (recipe to come soon!) …and hung some new lights in our basement!
I wanted to give everyone a heads up that I've got a fun facebook flash giveaway on my facebook page right now…. because I love my Facebook fans!
Enter to win a $25 Target Gift Card!!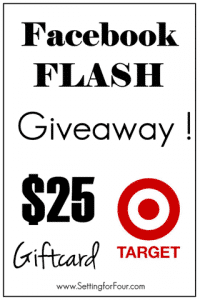 Open to US and Canada!
Details below:
Visit my facebook post to enter – all you have to do is 'like' the post and leave a comment with what you would use this gift card for! Hurry the giveaway ends tonight!
Good luck everyone!!!! Thanks so much for following along with me on Facebook!
Want some craft inspiration?….check out my Valentine's Day Project Gallery: Decor, Crafts, DIY's !