Hello everyone!! I had such a blast at Haven this weekend! Haven is a 2 day DIY and Home bloggers conference in Atlanta Georgia and it was truly one of the most incredible experiences I've had all year!
The workshops were incredible, meeting my 'old' bloggy friends in real life was unbelievable and making new friends a true joy!
As I recover from the Haven whirlwind this week, I'm thrilled to share a special surprise with you today! One of my savvy, talented bloggy friends is guest posting!
Maraynn from Domestically Speaking is here to share her beautiful painting DIYs, crafts, recipes and tutorials for your home!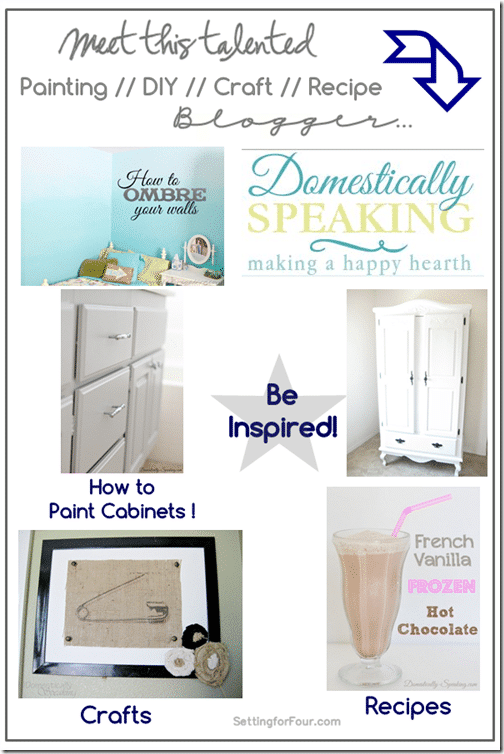 Hi guys ~ It's Maryann over at Domestically Speaking & I'm so excited to be guest hosting over here for Heather as she recovers from Haven.
I thought I'd give you a little overview of some of the things that you'll find over at Domestically Speaking.
PAINT ~ I ADORE paint. LOVE it! I'll paint anything that's in my house long enough.
Ugly laminate turned Princess Dresser
One of my fave paint projects ~ my oldest daughter's ombre walls.
In fact every week I host a Power of Paint Party all about paint and only paint. I'd love to have you come party with us crazy paint lovers every Tuesday night at 7pm (PST).
Another one of my obsessions is BURLAP ~ man, I can't get enough of it!
I created this Patriotic Burlap Runner this past 4th of July.
I love printing on burlap & I sell burlap signs too!
You'll find tutorials, like this Mason Jar Lamp Tutorial…
Recipes ~ like this Carrot Spice cake with Greek Yogurt and even some crafts too…
….like these easy to make nautical, rope coasters.
Well, I hope to see you guys over at Domestically Speaking and you can find me here too:
Thanks again Heather for letting me hang out at your place!
~ Thanks Maryann for guest posting today! ~
~ ~ ~ ~
Want posts delivered to your inbox? Click here!
Or follow along with me here !:
* Thank you SO much for coming by for a visit! I love to hear all of your comments! *
Heather
Written by Heather at Setting for Four
Setting for Four is a home design, décor and lifestyle blog. Focus is on home renovations, crafts, DIYs, tutorials, recipes, as well as family friendly design and decorating ideas that won't break the bank or sacrifice style.

You can find Setting for Four on Google+