7. With hot glue, attach the end of each paper ray to the wooden ring so the bottom of the ray is close to the inner edge of the wooden ring. Sorry I don't have a picture of this….my camera battery died and I had to recharge it then kept working on the project!
8. I attached the rays so that all the small paper rays were laying on top and all the large rays were laying underneath the small sized rays, like this.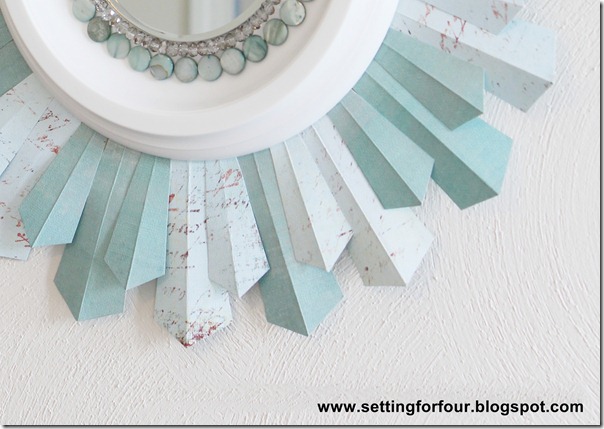 9. Attach the ceiling medallion with hot glue so that it is centered onto your ring of paper rays.
10. Attach mirror with hot glue onto the ceiling medallion so that it is centered too.
11. String the crystal beads onto the elastic beading cord.
Add as many crystals as is required to go around the outer edge of your mirror. (I used 73 crystals).
Tie the elastic cord in a tight knot and cut the ends. Gently pull one bead over the knot so that it is hidden.
12. Attach string of crystal beads, using hot glue, around outside of mirror. You do not need to glue down every bead…I glued the strand down in about 7 places.
13. Cut the strands of shell beads to separate the beads. Attach individual shell beads with hot glue around outer edge of crystals. I used 34 shell beads.
I had to overlap slightly the last 2 shell beads to make them fit, but no one will see it!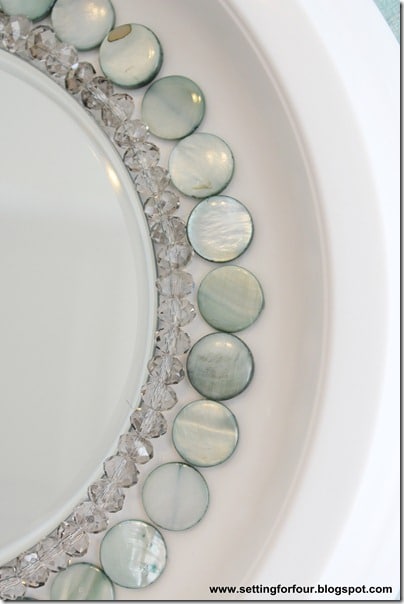 14. Attach a command strip to the back of the wooden ring and hang the mirror.
That's it you are done!
This was so fun to make!!!
I love how it sparkles and the beautiful shape of the paper rays.
This would be a great gift idea too! Teacher gift, birthday gift, Mother's Day gift…..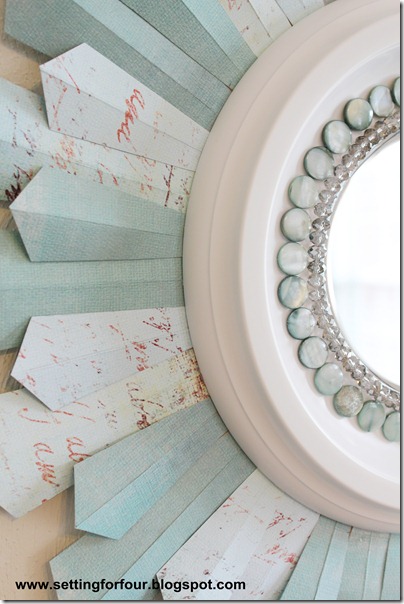 I hope you enjoy your one-of-a-kind DIY sunburst mirror!!
You may also like: