I have some exciting news to share today!
I'm beyond-the-moon excited to be partnering with Frigidaire Canada and Mom Central, to be selected as a Frigidaire Ambassador and a Test Drive Mom!
Wow! Pinch me now! What an honor! I'm so proud to represent Frigidaire; a company that has such an outstanding reputation and has delivered over 90 years of innovations to busy families like mine!!
Frigidaire delivered a new Frigidaire French Door Bottom Mount Refrigerator to our home last week for me to 'test drive' and review as part of the #testdrivemoms campaign! For real!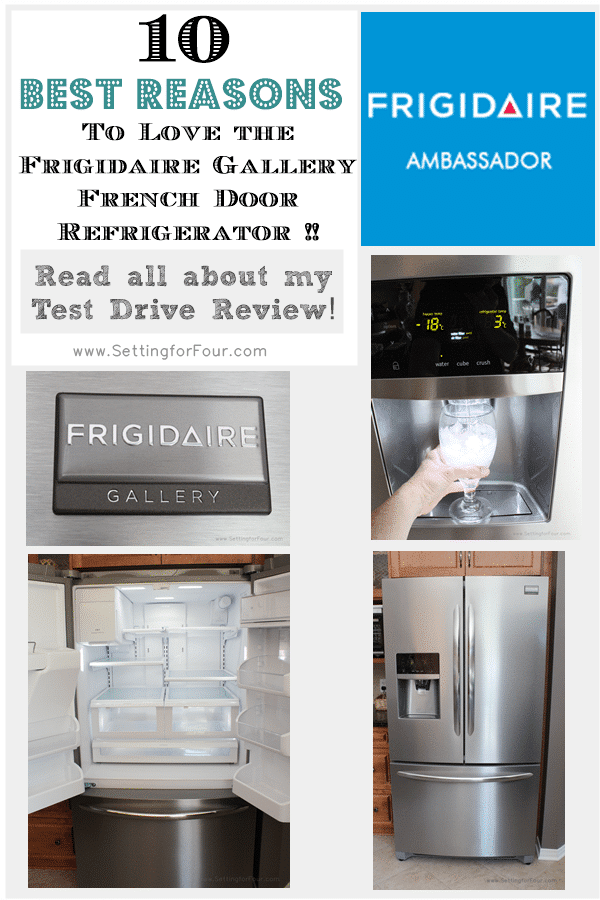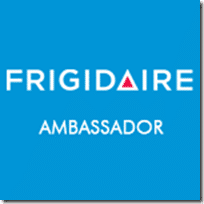 So what does that all mean?
I'll review and share with you all the ins and outs of this fabulous refrigerator; all of the benefits and advantages from the point of view of a busy Mom!
…and there are so many wonderful things to tell you about this refrigerator, because I am in LOVE!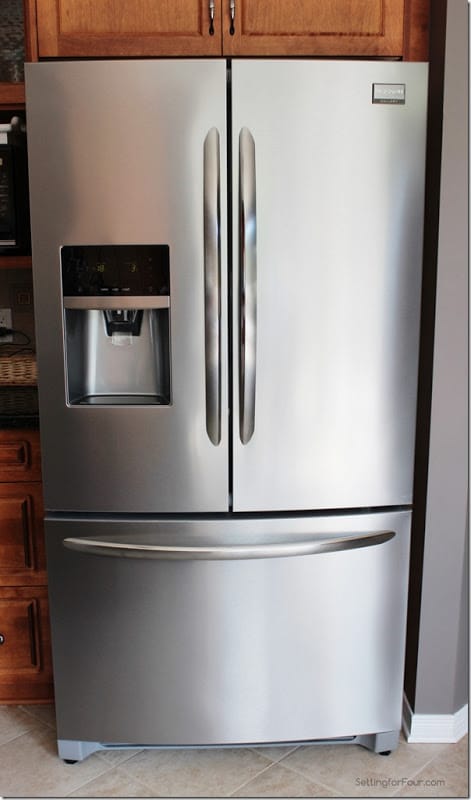 Where do I even start?
Well, let's start with the 10 Best Reasons to Love the Frigidaire Gallery French Door Refrigerator! (It was super hard to only select the 10 best reasons ….believe me there are a lot more things to love about it!!)
1. First impressions: I'm seriously in love with the looks of this refrigerator! The stylish and sleek stainless steel finish instantly updates my kitchen with it's contemporary look! The designers at Frigidaire have really paid attention to ensure a cohesive color scheme: the sides and toe kick are a mid-toned grey color which matches the stainless steel and gives this fridge a seamless appearance! It goes beautifully with my new kitchen wall color Sherwin Williams Mink, SW6004!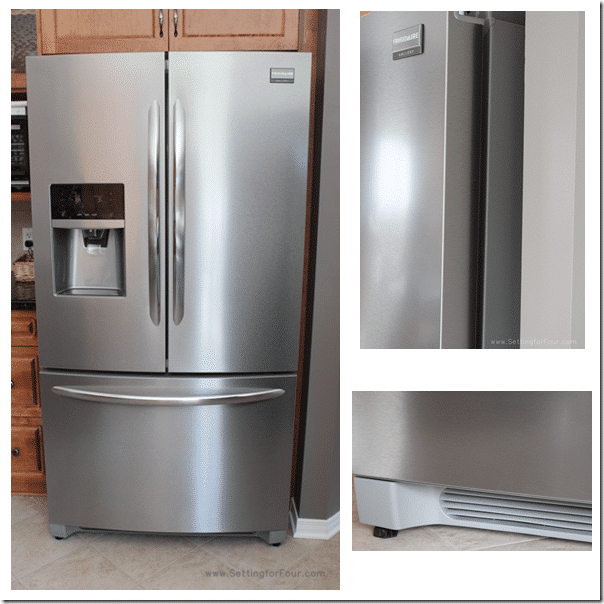 2. Not only does the stainless steel finish look great, it also has an innovative protective coating making it smudge-proof to reduce fingerprints! And in my house, with two teenage boys, I know I'm going to really love that feature! No more constantly cleaning and wiping off handprints!! I'm so glad Frigidaire thought of a way to help a mom have a fridge that not only looks cool but looks clean too!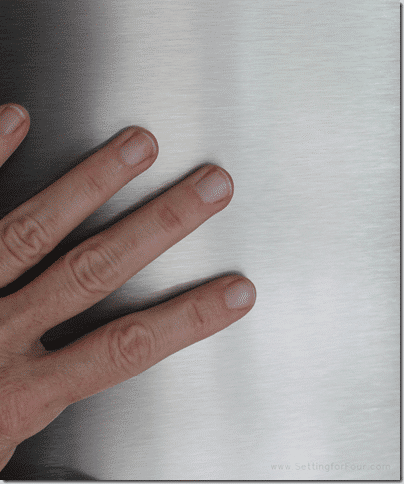 3. One of the first things I noticed with this new fridge is the front control panel with water and ice dispenser! I love that it dispenses both ice cubes and crushed ice! We'll use that a lot this summer! The water and ice tastes so clean and fresh thanks to the PureSource Ultra® Water Filtration system too! It removes 99.9% of bacteria/chemicals from your water….that gives me total ease of mind for the health of my family.
The control panel is very checked out: The ready select controls allow easy selection of options. The indicators on the control panel will notify us when the air filter and water filter need to be changed so that everything stays fresh and clean!
The drip tray is another great feature. It'll catch any water splashes so they don't spill down the front of the fridge for less cleaning!
Cool factor: there is a light to use at night time! So convenient!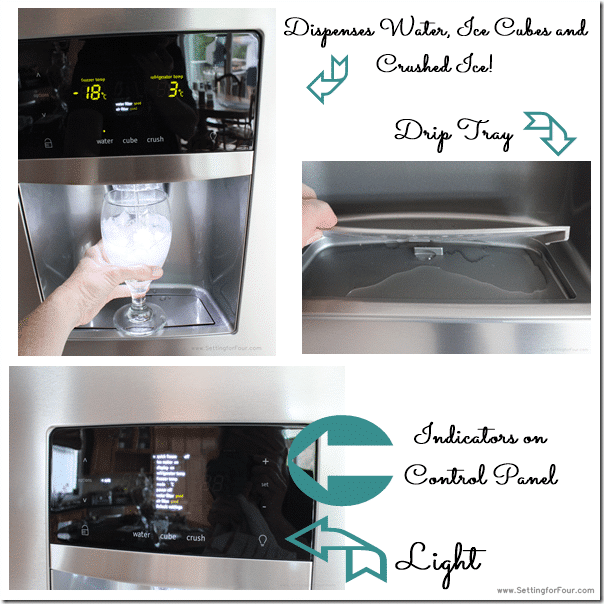 4. The French Door Bottom Freezer style of the Frigidaire Gallery is so organized, convenient and energy saving! The refrigerator items are at eye level making things easy to find, less likely to spoil, while the lesser used freezer items are below and out of the way. This style also conserves energy since you are only opening the door of the section of fridge you want to access so less cold air escapes! Our old bottom mount fridge had a single refrigerator door so every time we opened it we lost a lot of the air that was supposed to keep the food cold. The French Door style will solve that problem!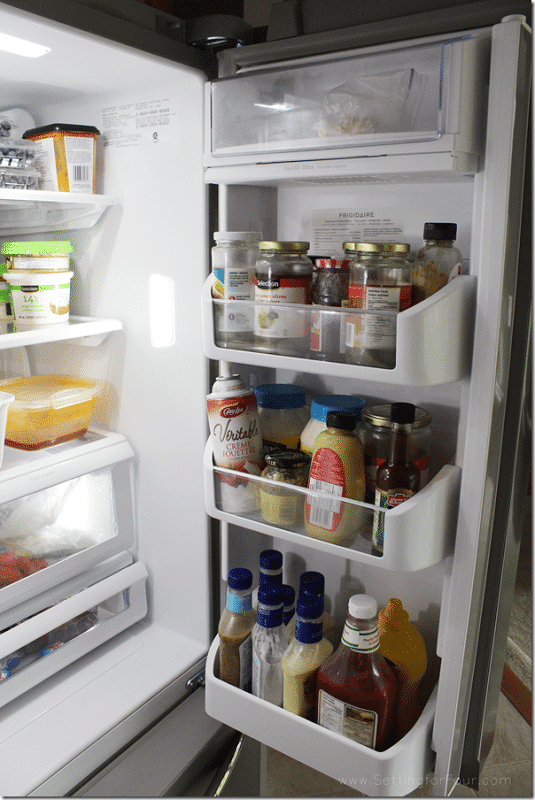 5. Unpacking and storing groceries is a breeze with the Effortless™ Glide Freezer and Crisper Drawers. They smoothly open and close for easy access to what's inside and hold a lot of food! I love that they don't tug and pull when you are opening and closing them, that makes life so much easier when you're in a hurry!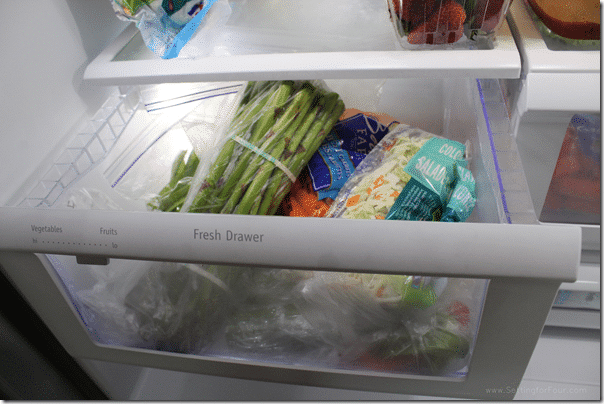 6. This fridge is the most organized and convenient fridge I've ever seen! The SpaceWise® Organization System with Flip-Up and Slide- Under shelves lets me adjust the height and make room for storing taller objects like bottles of pop. Very handy!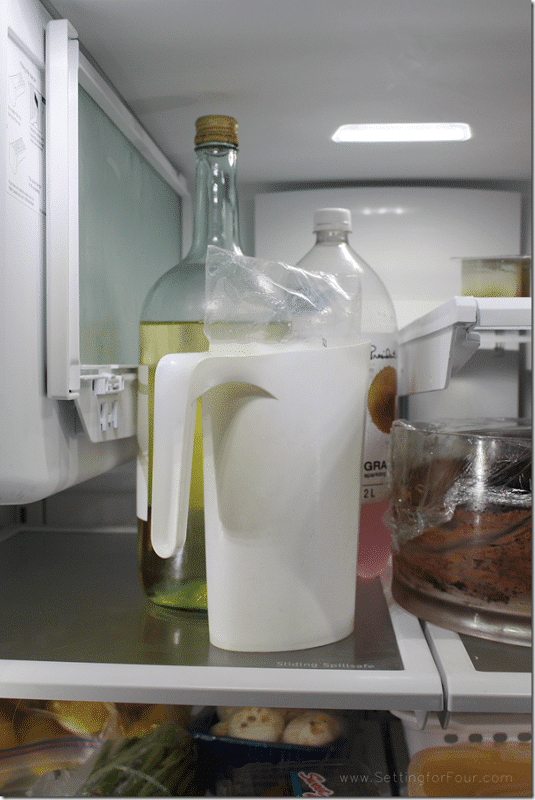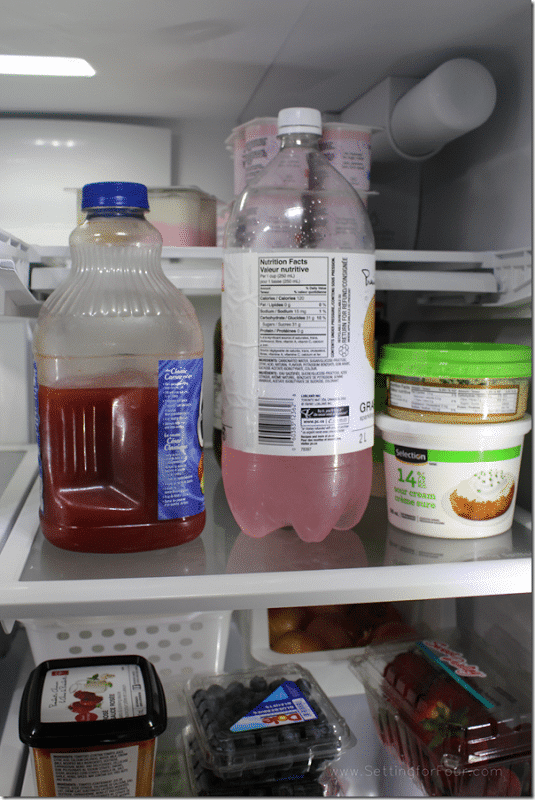 The spill safe shelves have a raised border and are designed to contain spills and make clean up a breeze!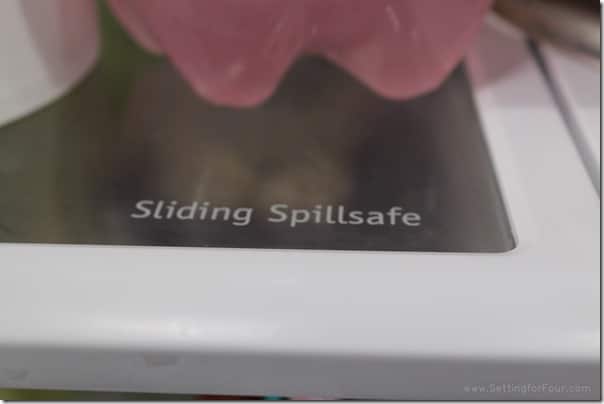 The Store-More™ drawers and bins are incredibly roomy, which is great because my two teens and hubby are constantly hungry! So we always have a well-stocked refrigerator.
The Effortless™ Glide Crisper Drawers keeps fruits and veggies fresh in the humidity-controlled crisper drawers.
The Store-More™ Full-Width Drawer provides enough space to easily store anything from sheet cakes to large platters, to snacks and juice boxes. Great for entertaining, parties and everyday!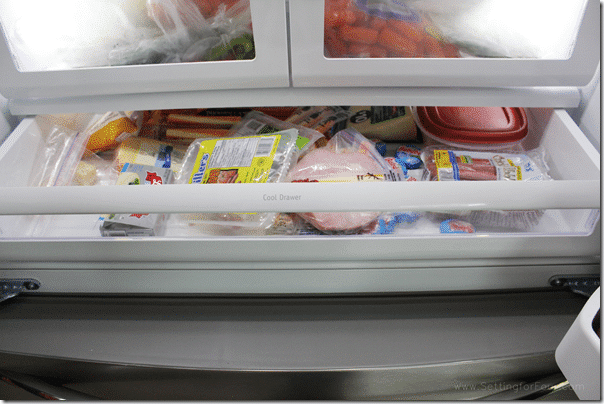 Effortless™ Glide Freezer Drawers glide out smoothly and fully extend, allowing such easy access to what's inside and the various compartments will allow me to organize my various freezer items too!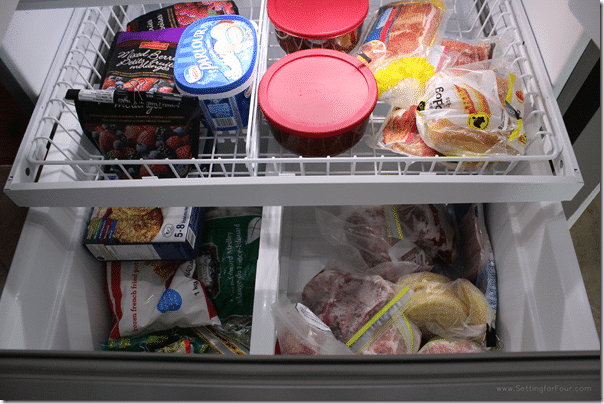 7. When I opened the fridge for the first time I was amazed at how bright the interior is lit! There are 7 ramp-up lighting sources in the fridge: at the top, the sides and bottom so everything is easily found! No dark corners!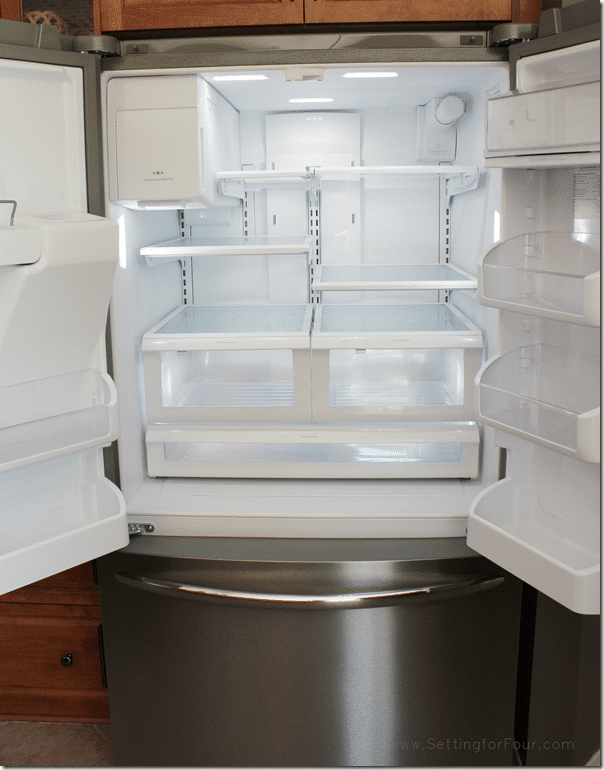 8. This refrigerator is incredibly quiet, we can barely hear it running! This is fantastic for my open concept kitchen and living room where we spend time watching TV. The Frigidaire's sound reduction package will allow us to hear the TV without any problems!
9. To top things off, this fridge also features Pure Air Ultra® Filters which effortlessly keep the air in the refrigerator fresh…..no more 'stale fridge smell'!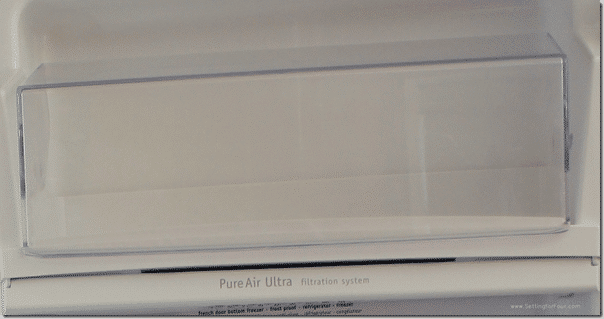 10. We are really going to enjoy the Energy Saver Plus Technology too. It will automatically go into an energy saving mode if not opened for 24 hours! The Frigidaire Gallery is Energy Star certified so we know we are saving on our electric bill! Love that!!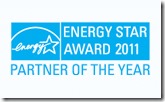 As you can tell, we are really enjoying our new fridge and the convenience it's given our family!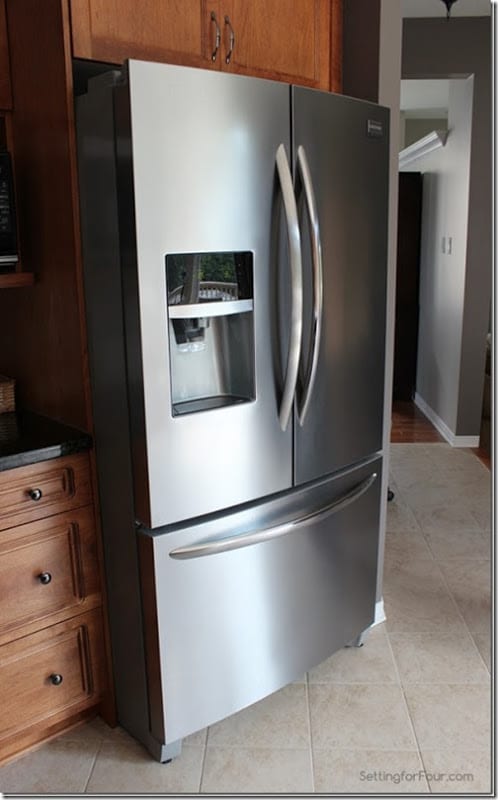 Thank you again Frigidaire Canada and Mom Central Canada for choosing me to be a Test Drive Mom!
Check out Hosting a Party is Easy with Frigidaire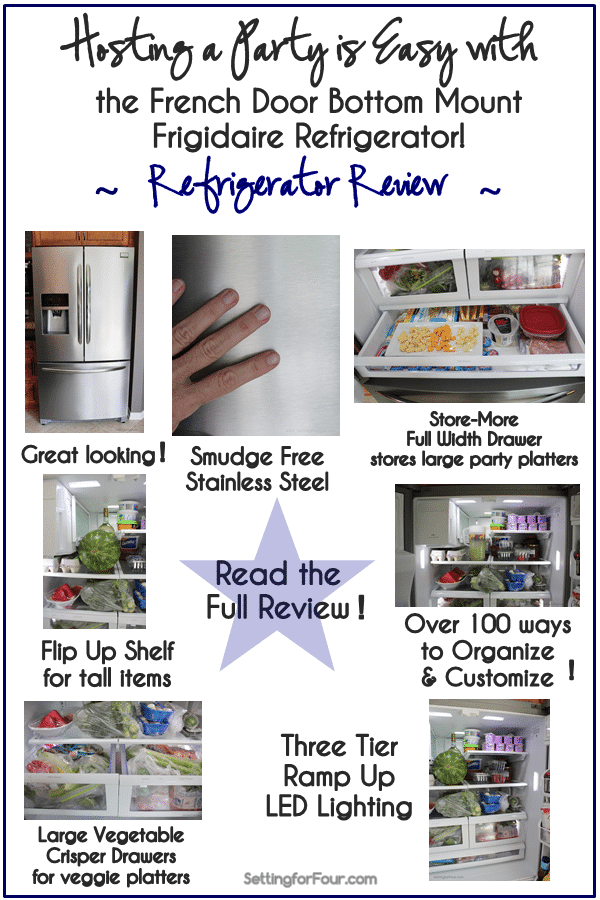 ….and Ten Clever Kitchen Organization and Storage Tips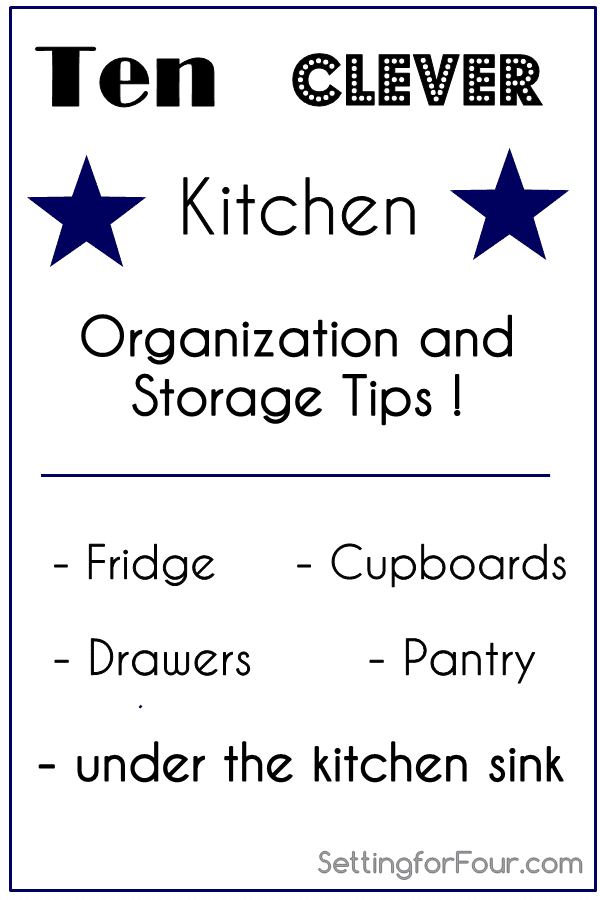 Learn more about Frigidaire and their fabulous full line of appliances at www.frigidaire.ca and also follow along for updates, deals and contents on Facebook and Twitter @FrigidaireCA!
*Disclosure: I am part of the Frigidaire Canada Ambassador program with Mom Central Canada and I receive special perks as part of my affiliation with this group. The opinions on this blog are 100% my own.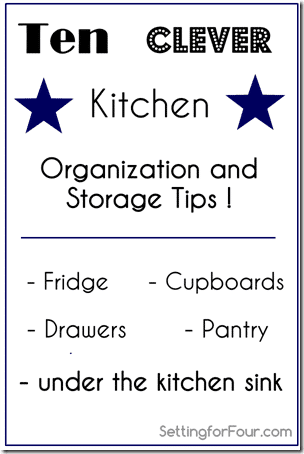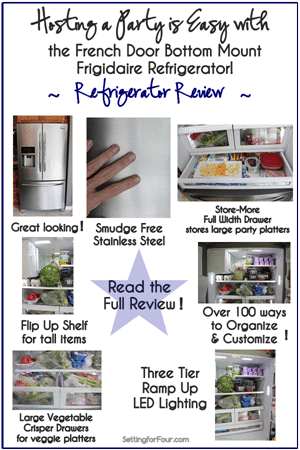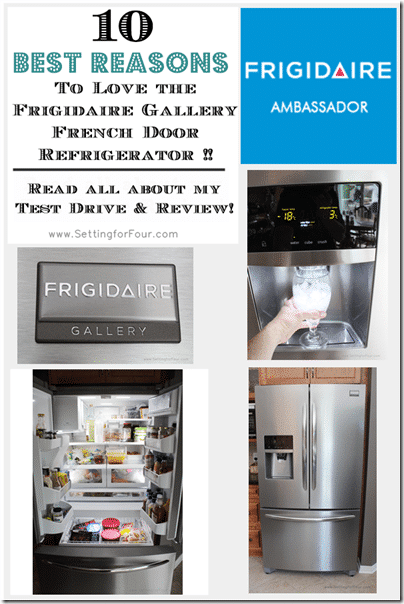 Sharing at: