This easy DIY abstract art is an easy craft for kids! Make wall art from a canvas, paint, Mod Podge and paper – so fun for kids!
Even though spring hasn't arrived here yet and two weeks ago we had a huge snow storm, I am in spring cleaning and decorating mode!
I've been putting away our boots and winter coats….adding fresh flowers to the table and a new spring wreath to our front door….
Thanks to a wonderful box of craft goodies that recently arrived from Blueprint Social (including Mod Podge Washout, Apple Barrel paint and stencil brushes) I was also able to make some new spring art with my son to add a beautiful pop of color to our home!
DIY Abstract Art – Easy Craft for Kids:

My son is quite a little artist….you've seen some of his artwork before…..in this Turn Kids Art into Tea Towels DIY and this DIY Thanksgiving Towel from Kids Art. He loves to draw and paint and hopes to be an architect one day!
We put our heads together and came up with the idea to create a 'Bokeh' photography effect for this piece of DIY art!
Multicolored 'Bokeh' circles were created in this abstract DIY art that's easy to make with your kids!
If you've never heard of Bokeh photography, Bokeh is the blurring of an image when photographed in an out-of-focus way. It's a very cool and interesting technique which I used to make these Holiday photographs and this white and silver Bokeh photography.
Supplies:
– Mod Podge Washout
The beauty of Mod Podge Washout is that it's the same great formula as Mod Podge Gloss but washes out of clothing and furniture with soap and water, even when dry. It's completely machine washable with no pre-soak needed….so this is great for Mom's and teachers!
– Acrylic Paints: Banana, Lime Tree, Petunia Purple, Pool Blue, Candy Pink
– White acrylic craft paint.
– Foam Spouncer Stencil Brushes
– Paint brush
– Scrapbook paper – I used a glossy white linen-like textured paper.
– 1 inch circle punch.
– Artist Canvas
DIY Tutorial:
– Using a clean pie plate, or piece of Styrofoam, pour out small amounts of each color of Apple Barrel paint.
– Paint entire canvas yellow 'Banana' color (or whichever color your child likes!)
– Dip foam spouncer into a second color and dab on plate.
– Place spouncer onto canvas creating random circles of paint.
– Select next color and with a clean spouncer repeat until the canvas is covered with colored circles – giving a bokeh effect!
– Let dry.
– With 1 inch circle punch, punch out several circles from scrapbook paper.
– Glue them onto canvas using Mod Podge Washout.
– Add a whitewash topcoat to entire canvas using white acrylic paint diluted with a bit of water.
– Let dry and hang your art!
Doesn't it look like Bokeh photography? Sort of???? I do!
I propped our DIY Bokeh Art Canvas on a table next to a stack of books, a Johnathan Adler-ish vase and candle votives.
What do you think? Didn't my little artist do a great job?
Here's a fun Mod Podge Egg Carton Craft for Kids!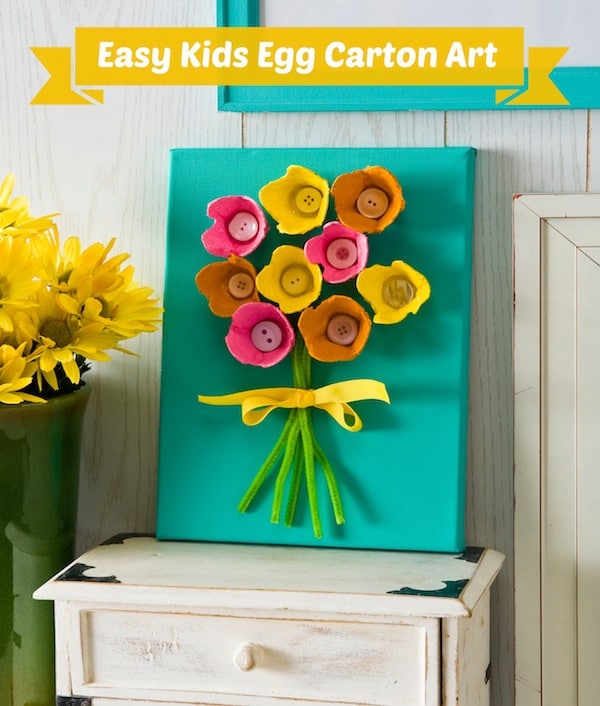 ~ ~ ~ ~
Here are 37 other fun Mod Podge Crafts for Kids projects by some very creative bloggers:
Have fun spring crafting!!
This post was written as part of a campaign with The Blueprint Social,
but I really do like Mod Podge Washout and Apple Barrel Paints!
All opinions are my own.