Today I have a big surprise!
Wouldn't you love to get some holiday decorating tips from a professional interior decorator?
Me too!!
Well we're in luck today because my super talented blogger friend (who is also an accredited interior decorator!) Cynthia, from A Button Tufted Life, is joining us to share gorgeous holiday decorating tips and a stunning DIY Decorator Peacock Wreath!
This is Cynthia's blog:
….and here's Cynthia – Isn't she stunning?
….and she is super talented!
Cynthia is a formally trained, accredited interior decorator. At A Button Tufted Life she shares the latest design and décor trends and news as well as her décor projects, travels and latest antique finds!
Cynthia is here today to demonstrate how to create your own DIY Peacock Wreath for the holidays as well as offering some holiday decorating tips! (check out the adorable top hat that she uses as a tree topper for her Christmas tree!)
So here is Cynthia!
~ ~ ~ ~
Hello everyone! I love this time of year!
The food, entertaining, sitting by the fire to warm up after being outside in the snow...
Oh, and the Decorating!!
I LOVE the decorating!
So, I was very pleased when Heather asked me to guest post about holiday decor.
Let's start with a few photos of my home decked out with a peacock inspired theme, then I will give you a few tips and tricks to get the look and a tutorial on how to start with an inexpensive wreath and turn it into a stunning custom piece.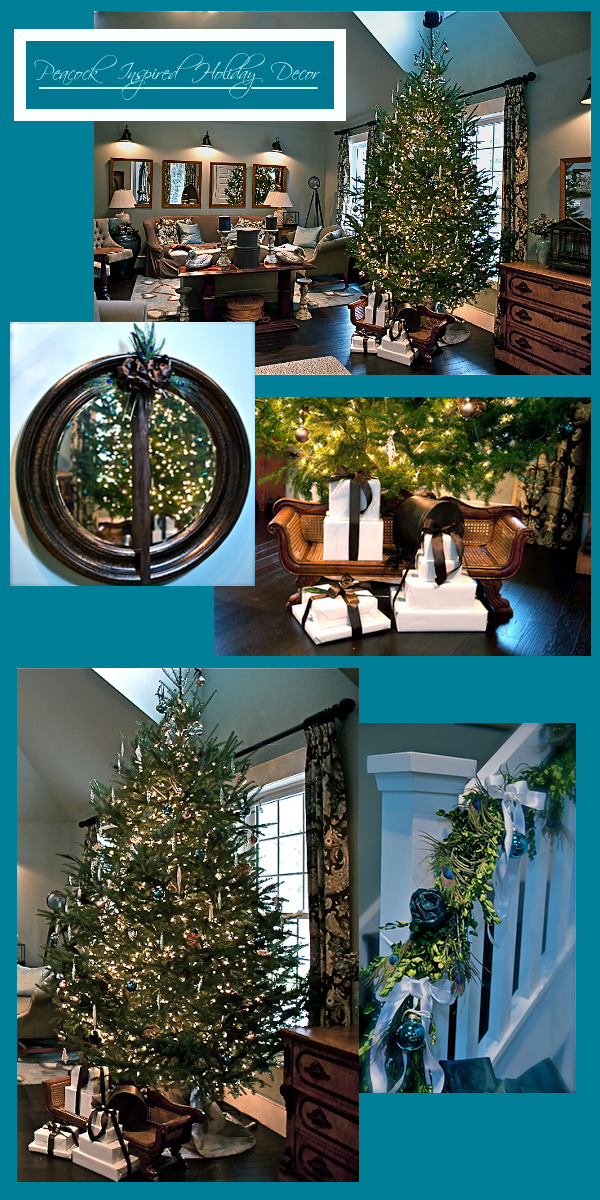 I wanted to use peacock feathers as a backdrop in my holiday decor because they add such beautiful colour and interest without breaking the bank. I used around 200 peacock feathers throughout the room.
They were added to the tree, mixed into the garland, topped gifts and decorated my mirror.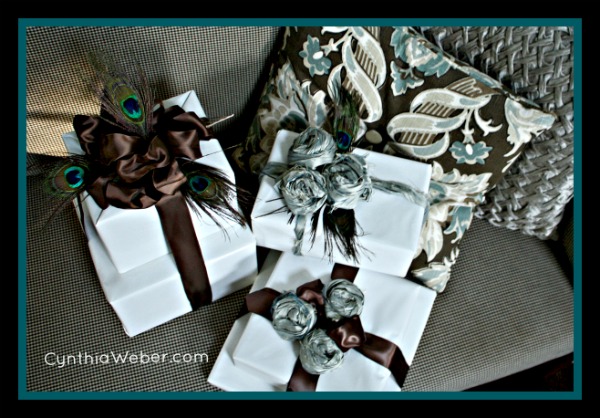 You can see them on the gifts here as well as some very easy fabric roses made from silk remnants. If you would like to know how to make the roses here is the link.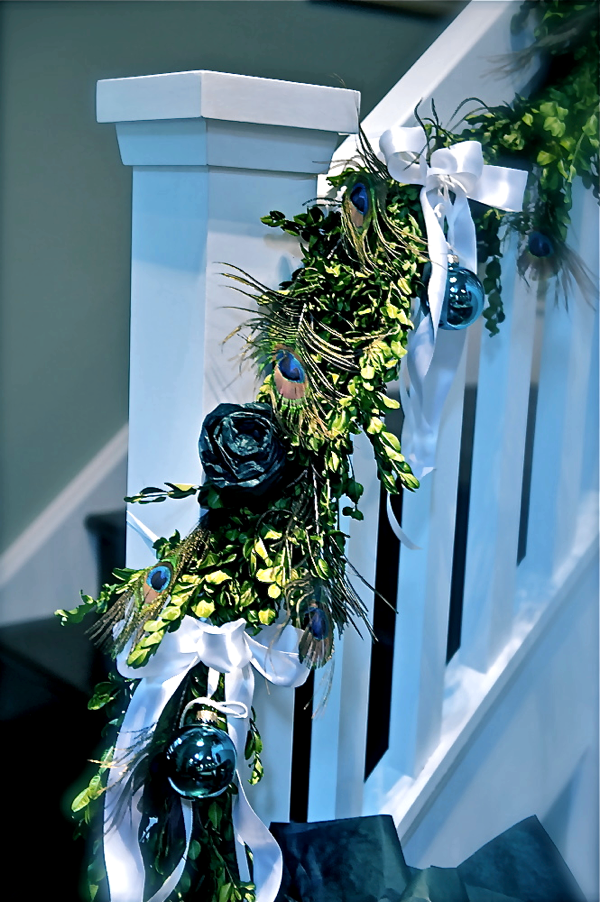 For the garland I used boxwood and added in the feathers, ornaments, white bows and those easy roses again but this time I made them from dark teal tissue paper, another way to add lots of impact for not a lot of expense. The extra tissue was then used for wrapping and filling some big crocks at the bottom of the stairs.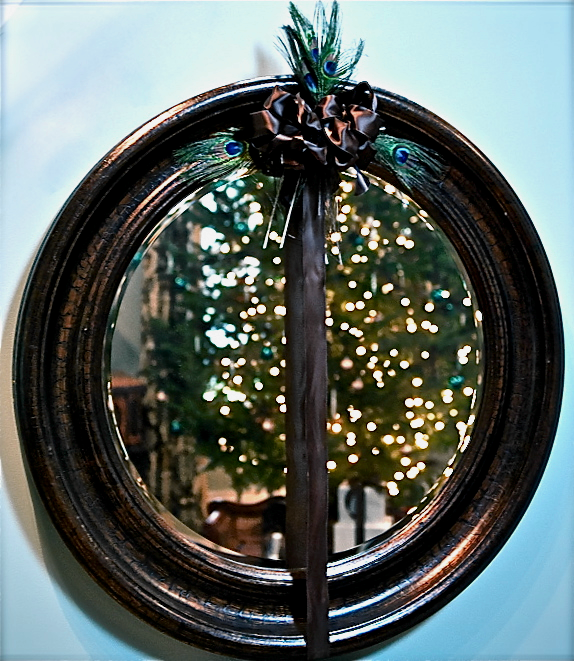 I love how the lights from the tree reflect in the mirror. Notice the peacock feathers again.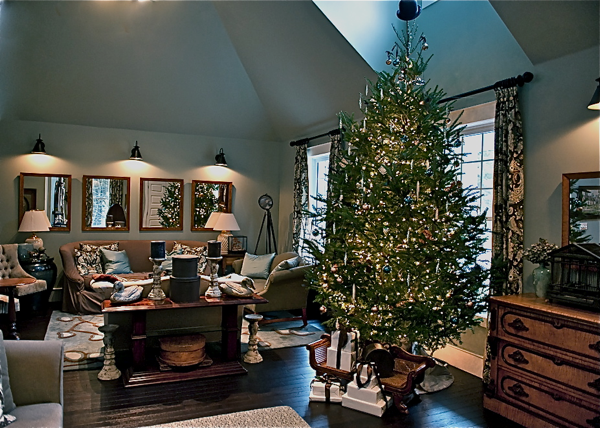 Setting the right mood is so important. I dot small vignettes using the same colourway throughout my space. Gifts are wrapped early and become part of the decor. I love how they look on the miniature sofa under the tree.
Topping the tree with a bowler hat is a family tradition, I think it adds a touch of whimsy!
Dimmer switches on all the lights give me more options for creating the right mood in the evenings. The lights above the mirrors wrap around the room and go up the staircase drawing the eye up and making the most of the 17ft. ceiling.
O.K., That gives you a quick tour of the room, now lets talk about that wreath...
I started with an inexpensive fake wreath that I have had for years. They keep well but I don't like how they look.
The nice thing about these wreaths is that the wired branches make it very easy to secure other fresh greens in. I start by placing cedar and pine in around the wreath.
Then I add in the magnolia branches.
Space them and stand back to have a look, add in single leaves to fill in dead spaces till it looks balanced to you. You can also go back and add in more cedar to cover the fake branches if they are still showing to much.
The peacock feathers were the final touch, add them in as a focal point or all around whichever you prefer. I put them all around because I love how they catch the light.
Here it is finished.
I tried it on the wall with a gift vignette below.
Then I placed it on our ottoman with a candle in the middle, I liked that even better.
The incorporation of the natural elements made a huge difference in the overall appeal of this wreath.
I am thinking about doing a row of them hanging from the banister... So many ideas... so little time!
I hope you all have a wonderful holiday season!
If you would like to see more of my holiday decorating, you can check out my post on Urns.
If you are curious about seeing more of our home you can find the link here.
For info on my interior design work go to Cynthia Weber and for my blog Pop over to A Button Tufted Life... you are welcome anytime!
~ ~ ~ ~
Thanks Cynthia for sharing your DIY Wreath, decorating secrets and tips to give our homes a special stylish touch for the holidays!
I encourage everyone to drop by and say hello to Cynthia! Her home is absolutely beautiful.
Check out her gorgeous kitchen!
~ ~ ~ ~
Don't want to miss a post? It's easy to stay in touch with me!:
~ ~ ~ ~
* Thank you SO much for coming by for a visit! I love to hear all of your comments! *
Heather
Written by Heather at Setting for Four
Setting for Four is a DIY, lifestyle blog where you will find craft and DIY tutorials, recipes, and family friendly design and decorating ideas that won't break the bank or sacrifice style.

You can find Setting for Four on Google+